Gulliver's Travels
Reviewed by
George Constantin
on
January 7, 2011
20th Centutry Fox
presents a film directed by
Rob Letterman
Screenplay by

Joe Stillman

Starring:
Jack Black, Emily Blunt, Jason Segel, Amanda Peet, Chris O'Dowd, Billy Connolly, T.J. Miller, James Corden, Catherine Tate, Emmanuel Quatra

Running Time:
93 minutes

Rating:
PG

Released:
December 26, 2010

5/10

This latest adaptation of Jonathan Swift's classical novel is set in modern day New York City, as well as, of course, the fabled kingdom of Lilliput. Lemuel Gulliver (Jack Black) is a mail room clerk withn a large newspaper who has a long-standing crush on travel editor, Darcy Silverman (Amanda Peet), but can never bring himself to ask her out. Challenged by a work colleague into making a move on the object of his desire, Black plagiarises a well-written travel article andends up with an assignment to Bermuda instead of a date. On a speed boat, he enters the notorious Bermuda Triangle, and through what appears to be an inter-dimensional portal, he eventually gets washed up on the island of Lilliput, and into Swift's 18th century ,mostly English, world.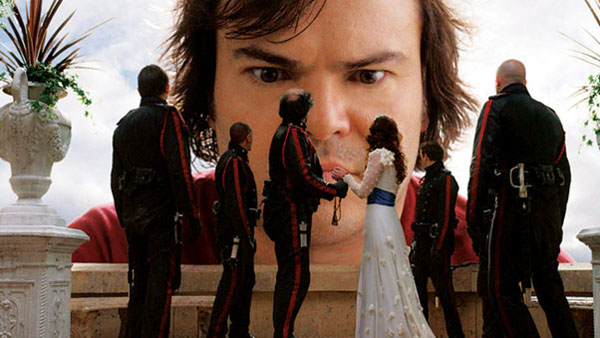 At first, the Lilliputians are at a loss with what to do with their new giant, but in line with Swift's novel, Gulliver wins over their trust by performing a number of heroic deeds, such as single-handedly defeating the invading Blefuscian fleet. At another scene, Gulliver saves King Theodore (Billy Connolly) and the rest of the royal Lilliputian family from being burnt alive by urinating on the flames (an idea that appears to have been borrowed from Bruce Beresford's The Adventures of Barry Mackenzie, 1972).
Emboldened by these heroic feats and his newly acquired stature, Gulliver begins to feel invincible and he becomes the toast of Lilliput. Huge posters of the jolly giant suddenly appear all over the island in what seems to be an emerging personality cult. He even gets involved with a love triangle that has Horatio (Jason Segel), a commoner, pitted against the somewhat pompous commander-in-chief of the Lilliputian army, General Edward Edwardian (Chris O'Dowd), as they compete for the love of Princess Mary (Emily Blunt). Gulliver actively sides with Horatio and provides him with pointers on how to woo the princess. Not surprisingly, Edwardia,n who had been plotting against Lilliput all along, has decided to rid himself of Gulliver once and for all. So far so good for our plot, until one day, Darcy suddenly 'turns up' in Lilliput. After this point, the film loses any semblance of credibility.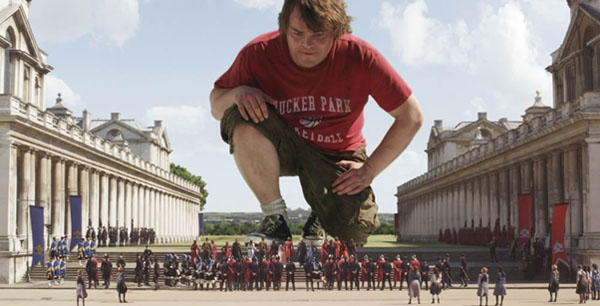 Black, the star of such hits as The School of Rock and Kung Fu Panda, is hopelessly miscast as Gulliver. Despite his best efforts and all-round standout performances by Blunt, Peet, as well as Connelly as the dignified King Theodore, with plenty of CG action, and even a fighting robot (masterfully operated by T.J. Miller), Gulliver's Travels falls disappointingly flat; a rush job to cash in on the 3D craze.
For Rob Letterman, who is essentially a director of animation films, this is well below the standard he had set himself with his debut work in Shark Tale (2004), which was nominated for an Academy Award for Best Animated film, and Monsters Vs Aliens (2009), which was DreamWorks Animation's first ever 3D film. Gulliver's Travels is mind-numbing film that is only recommended for kids under 12 - extremely bored kids, that is.