I must plead ignorance of the earlier output of British director Christopher Morris. It should be noted that the writers from the quirky TV shows Peep Show and That Mitchell and Webb Look, Sam Bain and Jesse Armstrong, contributed to this farce about fantasists.
What we get is a supposed glimpse into a would-be terror cell in London who have ambitions ranging from blowing up something small, to starting a global Muslim-Christian conflict "by blowing up a mosque"—you can start to sense the direction of the film and its humour.
Omar (the very intense Riz Ahmed) is married with a son and like most of the guys in his group, in his 20s or 30s. He is the leader and aspires to go on training camp in Pakistan. He is often challenged by the Caucasian convert and older member Barry (Nigel Lindsay) to be more extreme and ambitious.
Four Lions traces the haphazard build-up to the group's eventual attack on a marathon in London. There are many gags along the way which got the cinema laughing. What works really well is the realisation that extreme ideas can dwell in normal people, with tragicomic results.
Morris says he researched the film for three years and came across reports from many sources about live in a terror cell. There seem to be archetypal members, like one who takes orthodoxy too far and another whose motivation is unclear or confused. The dénouement of the film is perhaps the most chilling because what has been a rollicking laugh quite quickly yet credibly transforms into a risk to innocent life.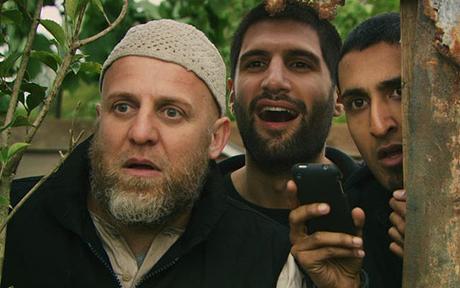 The exposé that there really is no such thing as Terror but merely people who behave certain ways is also insightful. Phrases like War on Terror crumble ineptly in the face of a determined individual or group. It was also a message of the film that true Muslims who believe to the letter, like Omar's brother, would never contemplate killing others. It is a bastardisation of faith that so often leads to violence.
The camerawork and editing are very fitting to the action, especially in the final sequence. While largely entertaining and insightful, this shtick is not new. In fact, one of my favourite animated series, Monkey Dust, featured just such a cell (more info, here).
I think Four Lions is fun and will be enjoyed by most people who go see it.