Julia Roberts stars in this adaptation of Liz Gilbert's best-selling travelogue. Roberts, as Gilbert, comes to realise her New York travel-writer life, which involves good friends and a caring, but bumbling and ultimately unequal husband, is not enough – she desires to break out. The divorce is prickly but necessary. There is a brief dalliance with a good-looking stage actor (James Franco) but this is merely physically fulfilling. Liz has other needs.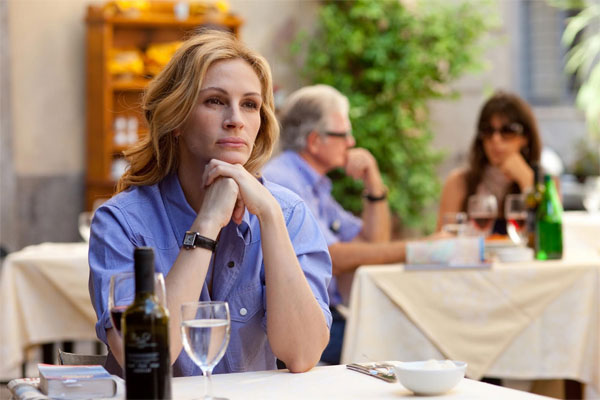 She packs her bags and clearly-abundant financial reserves and sets out into the wide world to 'find herself'. First stop: Rome. Hustle, bustle; caffè, cliché. Liz rents a spinster's semi-defunct but gawjuss room and sets about embracing the locale. She bumps into a Scandinavian ex-pat pretty much doing the same thing. A hunky Italian teacher is soon sourced and they get about the narrow, crazy streets enjoying the very best of eating and drinking.
Then it's onto an ashram in incredible India. The contrast with Italy could not be greater. There is a rigid schedule of meditation and menial labour. It is ironically a Texan (Richard Jenkins) who becomes her soul's pillar through her dhal-rich stay.
Final stop: Bali. Well known to Australians as a famous, infamous and sometimes ominous destination, the island's colourful charm is hard to resist. It is here that Liz embraces the balancing wisdom of shaman Ketut (Hade Subiyanto) while falling into the rugged arms of Felipe (Javier Bardem).
The adaptation was co-written by Jennifer Salt and Ryan Murphy (of Glee fame) and Murphy also directs. In terms of cinematic travel, Eat Pray Love is quite impressive. There are lush, capacious landscapes and pseudo-pornographic shots of coiffed food. There is also a wondrous, Fellini-esque spaghetti montage, replete with Mozart's Queen of Nights aria.
However, as a male viewer, I (and I imagine some women) found it hard to relate to Liz or care about her misadventures. Superficiality seems to haunt the film, and at a running time of 140 minutes, you really start to feel it. It should have been more snappy and despite all the meditation, it is hardly a meditative movie.
I would recommend it for fans of travel, food or Roberts but not the general viewer. Eat Pray Love sags, and despite its vocal and vehement protestations to the contrary, does not whole-heartedly embrace la dolce vita.