When The Weintstein Co. shoves The Company Men away to favour The King's Speech for Oscars success, you start to doubt the quality of the former. That's like seeing a stage parent spoil their brighter, smarter, fitter child over the other dull, boring one, though theThe Company Men ends up punching above that weight.
Bobby Walker (Ben Affleck), Phil Woodward (Chris Cooper) and Gene McClary (Tommy Lee Jones) are upper-tier workers who have been fired from a major shipbuilding enterprise, GTX, due to its downsizing. Who authorised the dismissals? James Salinger (Craig T. Nelson), the CEO, Gene's best friend and once best man. The rest of the film follows the three corporate 'casualties' as they struggle to restore their lives.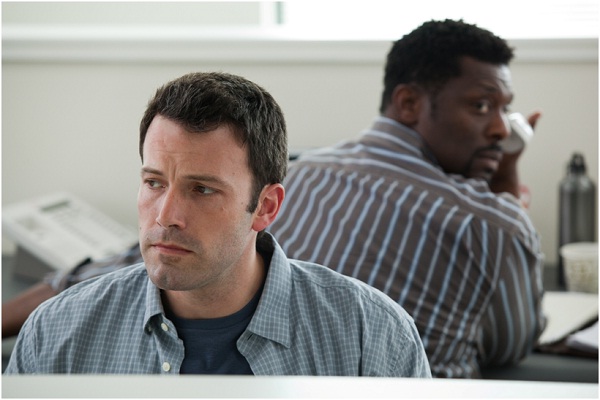 Ben Affleck, just another 'asshole with a resume.' Eammon Walker as his newfound pal in background.
First things first - this film is riddled with cliches. We have Bobby, the overzealous, MBA-wielding, Porsche-owning salesman who dreams of being corporate alpha-dog. There's his wife, Maggie (Rosemarie DeWitt), a calm, caring nurse who counsels her husband and tolerates his egomania. And finally Jack Dolan (Kevin Costner), Maggie's brother, a down-to-earth construction boss who helps Bobby regain his self-confidence. Gotta love his 'Make Poverty History' sticker.
But cliches are cliches for a reason, and when we're catapulted into the deep end of the business world - 'fiscal' this and 'revenue' that - they're the lifebuoys that help us make sense of things. So, if you're business-challenged, like me, you'll appreciate these comprehensible human elements.
Most of the familial relationships in The Company Men are deliberately, but annoyingly, underplayed. Wives, sons and daughters have limited camera time, emphasising that the protagonists are married to their work. Most family tensions, breakdowns and resolutions are treated fairly briefly. Keep your eyes open for these or you'll miss them.
As other reviewers have pointed out, it's pretty hard to sympathise with Gene after he's lost his job. He still has his alabaster-white mansion. Still, it must suck to be fired by your best man with whom you co-founded the company.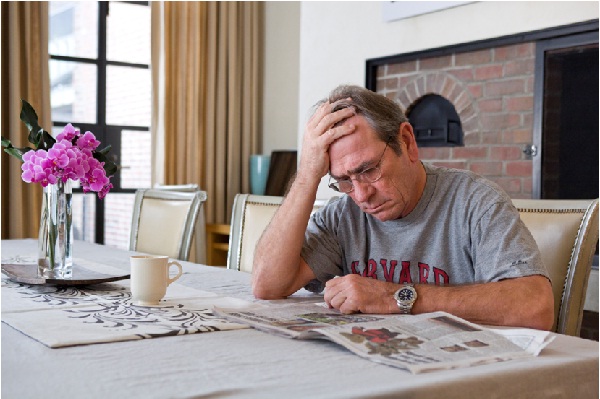 Gene McClary (Tommy Lee Jones) at the breakfast table. His finger's missing something...
Phil, on the other hand, easily drains all the sympathy from us. He began as a GTX factory worker who had toiled his way up the corporate ladder. Though wise and silver-haired, his decade-long experiences and military achievements dwindle to nothing in the ageist workplace. Don't miss his dishwashing scene with that haunting Arabian melody. You'll be asking, 'Hey, why the random music?' And then you'll know why. Not giving away anything here.
It's not all gloom and doom, and there are some warm, funny moments, such as Bobby's ineptitude as a rookie carpenter or the various scenes involving Danny, the likeable quasi-comic relief. Oscar-nominated cinematographer Roger Deakins (True Grit, and almost every other Coen Bros. film) deftly visualises the optimism of the changing seasons - he even makes snowfall look auspicious!
The Company Men effectively forces us to re-think the American Dream. With a montage sequence of material wealth in the opening and a low-angle shot of an obelisk-like structure in the final scene, Wells reminds us of the indestructibility of corporate culture and capitalism. Fortunately, those who are spat out of this system are (sometimes) able to realise the toxicity of such an over-competitive lifestyle.
This thought-provoking get-back-on-your-feet film is not everyone's cup o' coffee, but if you liked Sandra Bullock in 28 Days (2000), Zach Braff in The Last Kiss (2006) or Will Smith in The Pursuit of Happyness (2006), then you'll probably enjoy the cast in this film too.