Chronicle

Reviewed by Felix Staica on February 7th, 2012
Fox presents a film directed by Josh Trank
Screenplay by Max Landis
Starring: Dane DeHaan, Alex Russell and
Michael B. Jordan
Running Time: 84 mins
Rating: M
Released: February 2nd, 2012

5/10
My impression of Chronicle is that it's trying to be a cautionary tale, high-octane superhero action and teen hijinks. It succeeds mildly in all three, leading to a good time, nothing spectacular but also disappointment. The latter is because I walked away thinking it could have been so much more.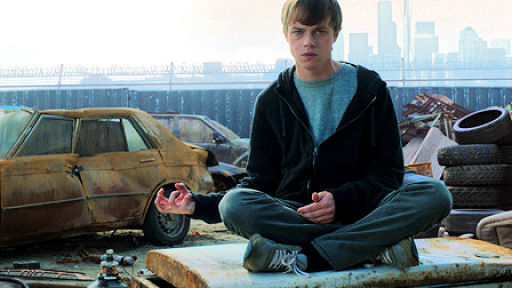 Andrew (Dane DeHaan) is the awkward outcast kid who plays around with his camera and is scared of or apparently uninterested in girls. His mother is dying and his alcoholic father thrashes him around. His cousin Matt (a beefy Aussie, Alex Russell) likes to read Schopenhauer (who doesn't?) and is generally smart, level-headed and dependable. Add to the mix Steve (Michael B. Jordan), who is basically Obama on Campus. The three guys are at a party, with Andrew only attending because Matt said he could film the whole thing. However, there is something weird out in the woods. Upon closer inspection, the boys find a crater and tunnel, and inside is something electromagnetically alien. They pass out and wake up with nose-bleeds but also the power of telekinesis. One can imagine all sorts of cool fun that follows. Given their increasing strength and ability to fly (autotelekinesis?), brainy Matt quickly realises that power must be constrained by rules. We can trust Steve to do this, as he is running for school president and his room is enshrined in awards. But what about Andrew? His increasingly sadistic turn leads to trouble.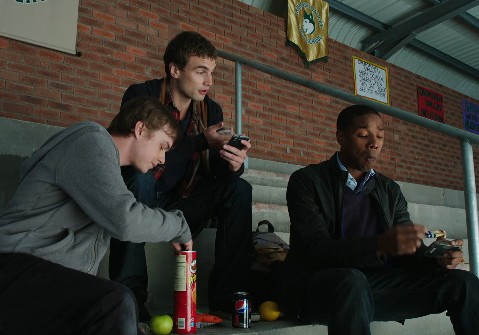 Chronicle, as the title hints, makes use of a video camera being at the boys' disposal. They record their killer new tricks and gags in supermarkets and whatnot. Though not all the film is told from this camera's perspective, a good chunk is. It is wobbly and dynamic, which can be nauseating, but hopefully not to the film's target audience. This is great wish-fulfilment cinema. Which kid, when growing up, didn't want to fly or get back at bullies or in some unusual way manipulate the physical world, which often seems cruel and overbearing, around them? While it tries to be about ideas (Andrew gets hold of one dangerous idea, that of the 'apex predator'), these are largely superficial. The filmmakers give in to their urge to blow things up and a seemingly necessary showdown between good and evil (or order and chaos, if you will). This very ancient drama is dressed up in a new suit, which isn't entirely unentertaining. The glimmers of subtlety and finesse early on are sacrificed later. Boom boom!