An oasis in the desert! Set in the sweltering, chaotic and ancient Egyptian metropolis, writer/director Ruba Nadda's gentle romantic drama drifts slowly along without ever veering into boredom. Juliette (Patricia Clarkson, always subtly effervescent) is a middle-aged mother whose children are now grown up and whose husband is extra-busy working at a UN camp in Palestine.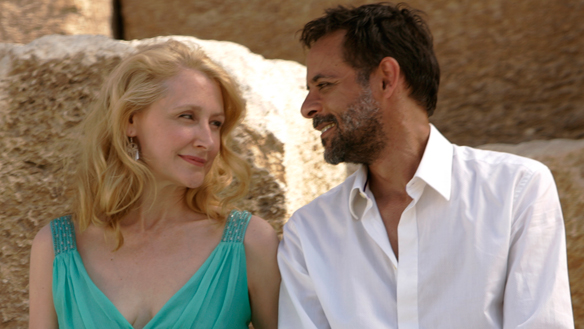 Meant to meet her for a long-overdue holiday together in Cairo, he continually fails to show up due to work priorities. Juliette is left alone in an old-time luxury hotel (which evokes the feel of Lost in Translation) in the care of local resident and a retired former colleague of her husband, Tareq (a broodingly mysterious Alexander Siddig). Ostensibly just a tour guide, soon their relationship becomes more personal. Could it be love?
There are many things to like about Cairo Time. One is the gorgeous photography which is both panoramic and minute. It shows the complex beauty of the city but does not shy away from its less cosmetic features. We are also treated to a feast of tourism imagery, from spice markets to pyramids, to men-only cafés. Another attractive aspect was the sometimes-uncomfortable view of a Western woman in a Muslim society. Needless to say, Clarkson is amazing as always, not letting a single scene slip through her talent.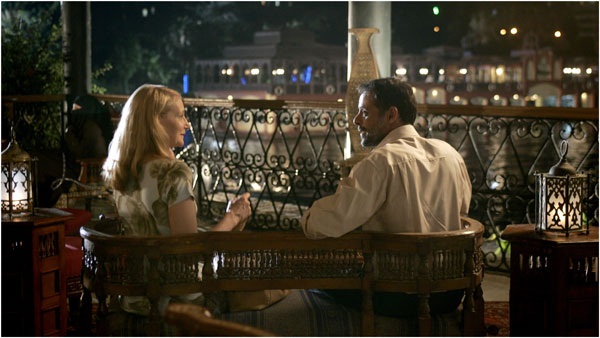 This film is enchanting because of its subtlety and slow pace. Things are hinted at and teased, even left to plateau. It's story-telling which hasn't spewed from a machine and which relies only on words and actions, not explosions and special effects. The insights into local customs and etiquette, including a wedding scene and also the "petroleum wives" are as intriguing as they are eye-opening.
Nadda has a consummate grip on human relationships and their depiction. There is also plenty of honest, wry humour about the East-West divide and the convoluted and interminable "Middle East Peace Process", including a very tense scene when Juliette's bus is held up by the authorities.
I enjoyed myself a lot, though I must cite one irritating error too often seen in the movies: if they insist on showing or using a chessboard, why can't they have the decency to set up the board correctly? A good rule is "white on right".