Bridesmaids
Reviewed by Joshua Blackman on May 25, 2011
Universal Pictures presents a film directed by Paul Feig
Written by Annie Mumolo and Kristen Wiig
Starring: Kristen Wiig, Maya Rudolph, Rose Byrne, Wendi McLendon-Covey, Ellie Kemper, Melissa McCarthy and Chris O'Dowd
Running Time: 125 minutes
Rating: MA15+
Released: June 16, 2011

9/10
I hate the term "chick flick" as a blanket term. Not only does it reenforce gender stereotypes, but it is too easy a way for men to disparage something they may otherwise enjoy. Traditionally "chick-flicks" are known for their overly saccharine stories or for being weepy romance-wish-fulfillment fantasies (eg. Twilight, essentially the female equivalent of a brainless action-film). Neither is true of Bridesmaids, the new Judd Apatow-produced comedy that stars Saturday Night Live alums Kristen Wiig and Maya Rudolph, a film which has the audacity to cast women not as one-note love interests but as fully-fledged characters.
It's also hysterical. I can't remember a film where the entire, almost-packed, preview audience was cackling almost non-stop the entire two hour running time. But, being as it is, a Judd Apatow endorsed production (The 40-Year Old Virgin, Knocked Up, Funny People), it also features his trademark of relatable characters and very real relationships. This time around, they just happen to be women.
It's so refreshing to see a film that depicts real people and gives weight to things like the petty jealousies and social awkwardness that seems to define the interplay between the five bridesmaids of Lillian's (Maya Rudolph) upcoming wedding. Our protagonist is Lillian's best friend and maid of honour, Annie (Kristen Wiig). The film's conflict stems from her rivalry with Helen (a pitch-perfect Rose Byrne), a wealthy social butterfly with control issues. When Helen arrives on the scene and instinctively takes the reigns of the upcoming events such as dress fittings, the bachelorette party, the bridal shower, and the wedding itself, she causes a rift in the long-lasting friendship between Annie and Lillian. As the wedding nears, things go more and more awry for the single Annie who, despite having repeated meetings with a nice local cop played by Chris O'Dowd, remains the miserable #3 sex buddy of a rich douchebag played with comedic relish by Jon Hamm (think his 30 Rock character, only more competent and more of an ass).
Apatow may be the biggest name behind the scenes, but Bridesmaids is all Wiig. She is a gifted physical comedienne and every bit as talented as her brainy-comedy SNL counterpart, Tina Fey. There's a virtuosic extended sequence on a plane where director Paul Feig (Freaks and Geeks, The Office) gives her free reign, and she has a wonderfully expressive face that amusingly contorts, yet her character still remains hugely sympathetic. Like Fey's Liz Lemon, but less neurotic, Wiig's Annie is also hard up in romantic relationships. But where Lemon drowns her loneliness in chocolate and crappy TV, Annie lets it out by getting mad at Lillian's ridiculously over-the-top Paris-themed bridal shower courtesy of Rose Byrne's Helen. The complex but affectionate relationship between Annie and Lillian is nicely boosted by Wiig and Rudolph real-life repartee, and in general Wiig and Annie Mumolo's script is witty and finds sweetness by just letting its characters be themselves.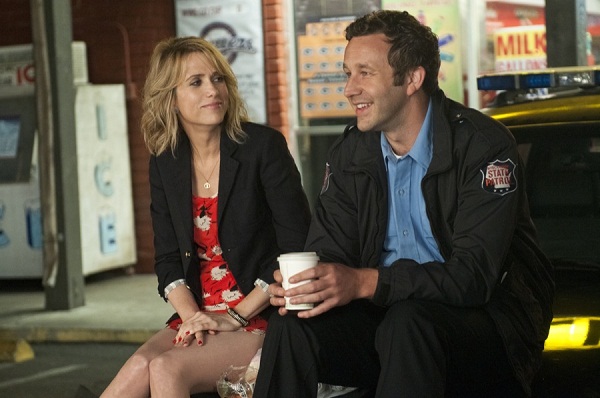 The bridesmaid cohort is rounded out by Rita (Wendi McLendon-Covey), Becca (Ellie Kemper) and the vulgar Megan (Melissa McCarthy of TV's Mike and Molly), who's made up to look as butch and unappealing as possible. McCarthy provides one of the film's most memorable performances. She's the butt of most of the film's more gross-out gags, and despite essentially playing the equivalent of the Zack Galifiankis role in The Hangover (a film to which Bridesmaids has garnered unwarranted comparison - they're totally different), actually creates a character that's almost believable, especially in an effective scene where she consoles Annie at her lowest point. O'Dowd, playing the only male character to get any significant dialogue outside of the bit parts of Jon Hamm and Little Britain's Matt Lucas, is softly charming in his role, and easily distances himself from the his well-known stint as the ever-flustered Roy on The IT Crowd.
Bridesmaids is simply a delight, and it affirms Wiig as a big-screen star. I find it hard to imagine there'll be a funnier, more heartfelt comedy this year.