Beasts of the Southern Wild
Reviewed by
Andreas Wong
on
September 19th, 2012
Icon
presents a film directed by
Benh Zeitlin

Screenplay by
Benh Zeitlin and Lucy Alibar

Starring:
Quvenzhane Wallis and Dwight Henry

Running Time:
92 minutes

Rating:
M

Released:
September 13th, 2012

6/10
Beasts of the Southern Wild records the tempestuous life of a cavalier 6 year old named Hushpuppy (Quvenzhané Wallis). Her childhood home is located in "The Bathtub", a Louisiana bayou separated from the developed world by a levee. This marginalised microcosm is home to a close-knit community of free spirits. There Hushpuppy lives with her ailing, alcoholic father, Wink (Dwight Henry), without her mother. Wink explains to Hushpuppy that her mother swam away. He further stokes the formation of his wife's imaginary within Hushpuppy's mind by spinning stories about her magical beauty, how she and him would spend time being shy around each other and how she once saved his life by shooting an approaching alligator. Hushpuppy's reception of the natural environment around her is glossed with wonderment as she idles time away frolicking with a miscellany of animals. Wink prepares Hushpuppy for the hardships that she will encounter after his death by implementing a paternal program of tough love and life lessons. Her erratic childhood thus gradually comes to be shaped by her fearless curiosity, scarred innocence and whimsical imagination. Drawing on knowledge gleaned from her teacher Miss Bathsheeba (Gina Montana), she falls into drifting spells where she imagines melting polar ice caps that thaw a long-frozen horde of prehistoric Aurochs into life. A swirling sequence of dramatic events begins when a fierce storm decimates The Bathtub and culminates in Wink being advised that he does not have long to live by a hospital doctor. Wink is rendered bedridden as his condition deteriorates towards death. The traumatising situation leads Hushpuppy to embark on a surreal search for her long-lost mother.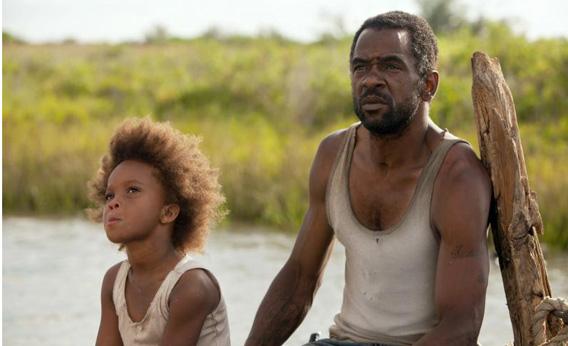 New York filmmaker Benh Zeitlin, 29, has attracted serious hype ever since his debut feature premiered at the 2012 Sundance Film Festival. Beasts of the Southern Wild went on to collect, among others, a Grand Jury Prize at the Sundance, a Caméra d'Or at the Cannes and a Grand Jury Prize at the Deauville American Film Festival. The general perception amongst most critics is that his film is beautiful and miraculous - a perception retrospectively textured by Zeitlin's admissions that Terrence Malick, John Cassavetes and Emir Kusturica are his key influences. Indeed, in the film, his debts to all three are highly visible but the final vision is undeniably Zeitlin's own. The real rub is that Zeitlin's direction lacks artistic maturity. Based on a one-act play composed by co-writer Lucy Alibar, Zeitlin's film is marred considerably by its raw unrestraint. Zeitlin uses hand-held cinematography to recreate reality just as Hushpuppy perceives it. However, the film winds up being too nauseatingly delirious and overwrought. It ultimately comes across as representing a sophomoric version of an established form of art cinema that has been previously executed with far more intelligence and skill by far superior directors before him. The film's single redeeming quality derives from its acting, in particular Quvenzhané Wallis' performance. Only five when she was first cast, and seven by the time of the film's completion, Wallis' Hushpuppy is an extraordinary tour de force. Yet all the inspired acting in the world could not quell the displeasure that this film elicits. Zeitlin still has a long way to go in proving that his baffling overachievement was no undeserved fluke.