If you cried during The Notebook then get the tissue boxes ready for Barney's Version. Barney Panofsky (Paul Giamatti), a Jewish-Canadian television producer, has been accused of murdering his best friend, Boogie (Scott Speedman), by an anti-Semitic detective. Through a series of flashbacks into Barney's past, the omniscient camera-eye clears up these accusations one biographical milestone at a time.
Nominated for the Golden Lion at last year's Venice International Film Festival, Barney's Version offers much more than its trailer advertises. Yes, our protagonist does fall 'heels-over-head' for a like-minded woman, Miriam (Rosamund Pike), at his second wedding. Yes, he does chase her whimsically through the rain, as every romantic lead should. But there are also sombre incidents that many viewers may not be expecting – the shocking suicide of a certain character, the unbearably awkward discussions that revolve around ethnic prejudices, and the bleak aftermath of confessed infidelity. Of course, if you've read Richler's novel, upon which the screenplay is based, you would have foreseen all these things.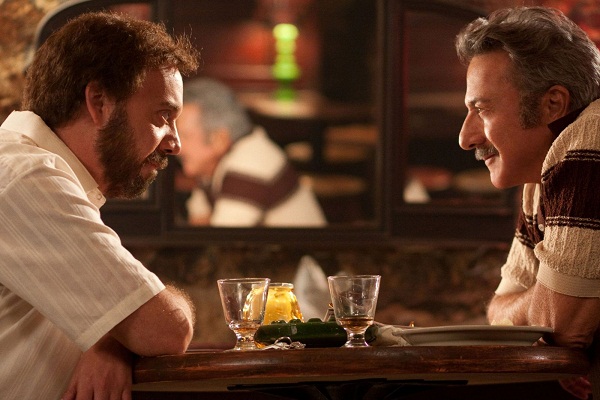 Barney (Paul Giamatti) seeking counsel from his father, Izzy (Dustin Hoffman)
Barney's Version succeeds in blending differing genres – romantic comedy, family drama and murder mystery – with palatable results. Sentimental sequences are well balanced with sporadic funny moments, from the close-up of a doctor clouded by his own cigarette smoke to the cheesy innuendo spoken by actors on Barney's soap opera. One notable climactic scene involves a quarrel between Barney and Boogie, partially featured in the trailer. Accompanied by intense ominous music, it's surprisingly reminiscent of the altercation in The Talented Mr. Ripley. My lips are sealed.
The main forces that make Barney's Version a memorable film are the engaging performances delivered by the star cast. Giamatti is something of a chameleon, morphing from an optimist living amongst artistic friends in Rome to a jealous, disgruntled media boss. His Golden Globe win for Best Actor was well deserved, beating both Jake Gyllenhaal and Johnny Depp. Rosamund Pike (Pride and Prejudice, Surrogates and the icy-cold villainess from Die Another Day) is uplifting as Barney's third wife – the potpourri in a musty room. As a radio personality who never raises her voice, the descriptors 'kindergarten teacher' and 'angel' immediately come to mind. It is particularly endearing how, whenever they are shown together in isolation, Barney occupies the left half of the screen and Miriam, the right, to highlight their enduring strength as an odd couple. And we mustn't forget Dustin Hoffman, admirable as Barney's gap-toothed father, Izzy, whose crude sense of humour is enough to traumatise a rabbi's wife.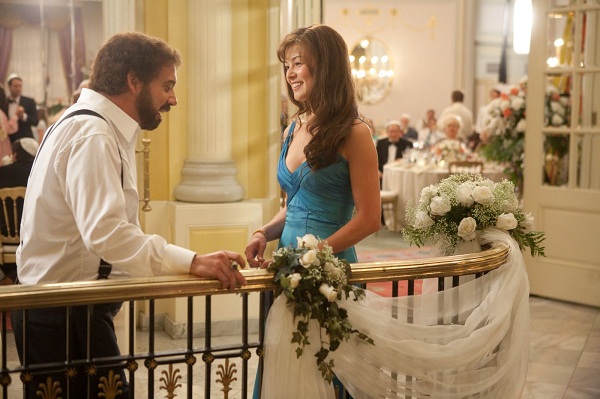 Barney meeting the angelic Miriam (Rosamund Pike)
Supporting cast and crew also contribute dearly to the film. Oscar-nominated actress Minnie Driver (Good Will Hunting) fulfils her role as Barney's intolerable second wife – simply credited as 'the second Mrs. P,' while Scott Speedman (Duets, Underworld) easily steals scenes as the attractive, inebriated writer. Caution: when his shirt comes off, try to stay focussed on the narrative. The makeup department, headed by supervisor Adrien Morot (The Covenant, 300), should also be applauded for ageing (and de-ageing) Barney and Miriam. Giamatti with full head of hair – priceless.
Pieced together like a jigsaw puzzle of past, present and future, Barney's Version is a poignant film unfit for romance-haters. Despite the rather rushed tempo of the denouement (which is relevant if we consider Barney's psychological condition), this audio-visual delight is the perfect escape for hopeless romantics still living in the worlds of P.S. I Love You or (500) Days of Summer.