Imagine gene splicing Ted meets Paranormal Activity... the by-product would be A Haunted House written and starring Marlon Wayans in this hilarious spoof about a really bad horror movie. Not only is A Haunted House far superior than the Paranormal Activity series will ever be but it will leave you hurting from laughter.
However don't go into A Haunted House expecting the next Oscar award winning film because you'll be sorely mistaken. With that said, if you're offended by anything politically incorrect than you might want to give this film a miss.... because you'll be in for the shock of your life!
<insert critic review> Marlon Wayan is either a genius or a writer who relies on childish antics, human body parts and flatulence jokes to get his message across. Ironically, A Haunted House is a social commentary on the rubbish that is released by Hollywood on shoe string budgets such as Paranormal Activity or The Blair Witch Project. A man with a camera can sometimes make the world get noticed, a Wayans brother with a house full of cameras will make the critics shake in terror and flee the cinemas in droves... welcome to A Haunted House! <end of critic review>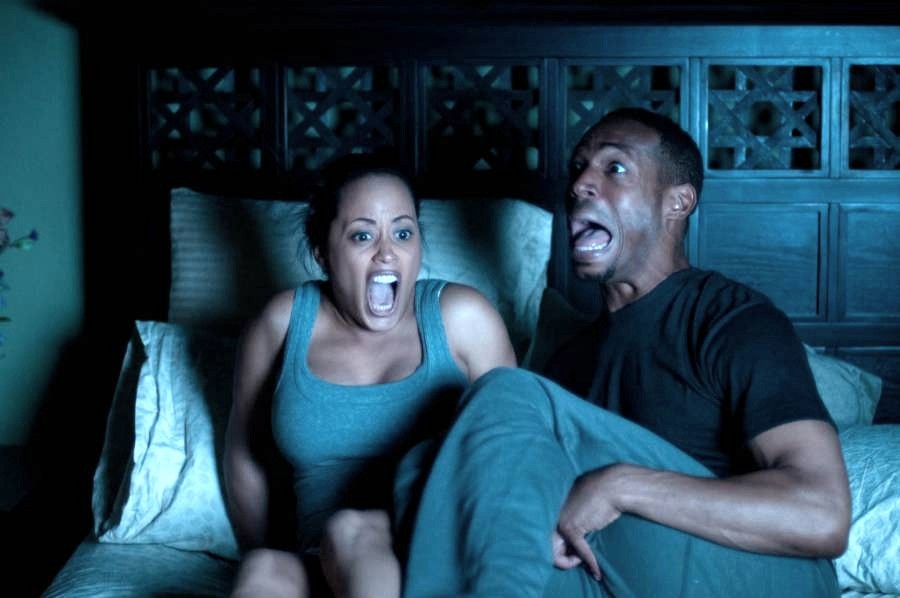 The premise behind A Haunted House is based on Paranormal Activity where Malcolm's (Marlon Wayans) new girlfriend Kisha (Essence Atkins) moves into his home. Unfortunately for Malcolm, she has brought a ghost/demon into his home and their love life is in for a shock.
Malcolm discovers that living with a girl is difficult but living with a girl and her ghost/demon is even harder. In order to capture his new girlfriend and the paranormal activity, Malcolm installs cameras into every part of his house and also uses a portable video camera to assist in the process as well.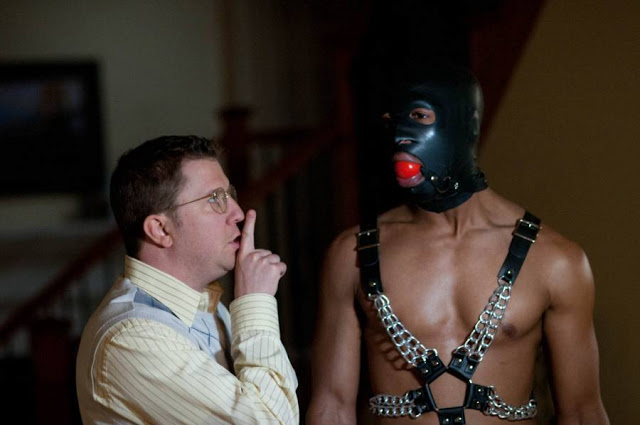 The result is some very disturbing scenes such as Kisha having sex with a ghost, Malcolm having sex with a ghost and their housekeeper packing heroine bags with her posse. It's classic Wayans humour and where on Earth does a gimp suit fit into the movie? Somehow it does!
A Haunted House uses every cliché in the book but is thoroughly versed in Wayans humour from their best friends wife who wants a Mandingo party (look it up on Google) or Malcolm bringing in a priest (Cedric the Entertainer), Chip the Psychic (Nick Swardson) or Paranormal Investigator Dan (David Koechner), you'll be shocked at some of their antics.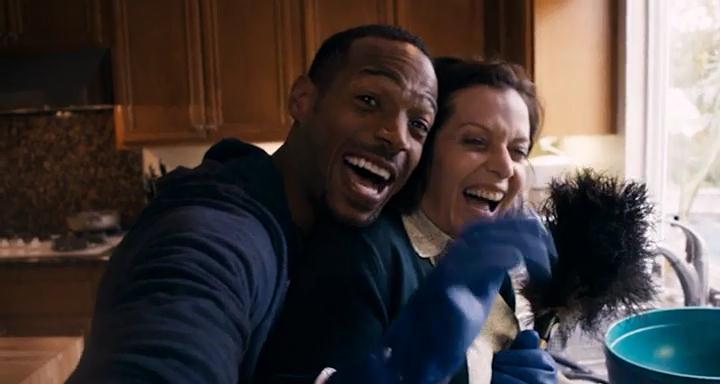 A Haunted House isn't a great movie but it sure as hell isn't a bad movie either... it's pure Wayans humour that will appeal to all those that loved White Chicks. Besides the freakishly disturbing ghost sex scenes, seeing Malcolm in a teddy bear orgy is almost worth the admission price alone and his facial expressions are very infectious.
Wayans and co-writer Rick Alvarez should be commended in this classic Paranormal Activity Spoof that really shines a magnifying glass on the crap that Hollywood releases. The only downside to the film is that it is a little too long but most comedies that rely on political incorrectness and juvenile humour usually are.
Nonetheless, what a laugh!