A Few Best Men

Reviewed by Damien Straker on January 14th, 2012
Icon Films presents a film directed by Stephan Elliott
Screenplay by Dean Craig
Starring: Xavier Samuel, Laura Brent, Kevin Bishop, Kris Marshall, Tim
Draxl, Jonathan Biggins, Olivia Newton-John and Rebel Wilson
Running Time: 97 mins
Rating: MA
Released: January 26th, 2012

8/10
On a tropical holiday David (Xavier Samuel) meets an Australian girl named Mia (Laura Brent) and they quickly fall in love. At a surprise party back home in the UK, David tells his three mates that he and Mia are getting married in Australia. The lads are unhappy about this because they don't want to lose him and also because they'll have to fly over there. They're an odd bunch. Tom (Kris Marshall) doesn't want to grow up. Graham (Kevin Bishop) is always pushed around by the other lads and Luke (Tim Draxl) is miserable, trying to win his ex-girlfriend back. The men arrive in Australia and are at the mercy of Mia's strict father Jim (Jonathan Biggins) and his wife Barbara (Olivia Newton-John). Jim is a wealthy senator, looking to impress his contacts with the lavish wedding but is frequently at odds with his other daughter Daphne (Rebel Wilson), who may or may not be a lesbian. The lads find themselves in trouble when they try purchasing some marijuana from a drug dealer with emotional problems and also when they have a crazy night together, the day before the wedding. They wake up to find they've been tormenting Jim's prized campaign sheep.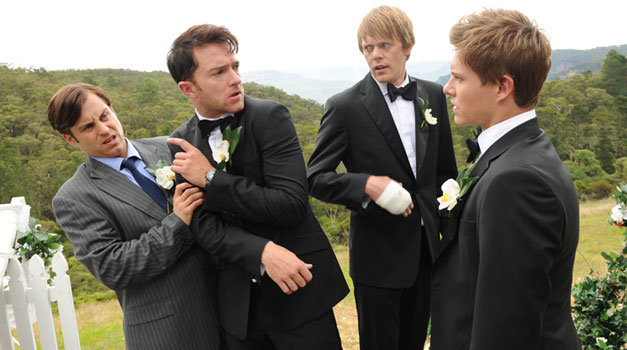 Colourful British wit makes light of black Aussie humour, burying memories of awful local comedies from the early millennium. The film is an Australian-UK coproduction. It was directed by an Australian, Stephan Elliott, but written by Dean Craig, the same Brit who penned Death at a Funeral (2007). That was another film I greatly enjoyed and this is a similar mixture of genres. It combines fish out of water with comedic farce, along with setups from countless other films. It is impossible not to recall the likes of Death at a Funeral and even The Hangover (2009). Yet the essential ingredients for a great movie on its own rights have not been forgotten. This is the funniest Australian film I have seen in years. What's important here is how the comedy is played out. The lads here are fools and regularly make a meal out of everything they touch. Yet you can't bring yourself to hate them because we understand they're out of their depth in a foreign environment, both geographically and class-wise too. And this might just be my own jet-black sense of humour talking but there is something immensely appealing to watch and listen to with self-depreciative humour. The lads in this movie are gifted comedians. They know how to keep a straight face as they poke fun of themselves, their social problems and eccentricities. I enjoyed the film enormously for this reason, the lack of winking, but also the variety of comedy too. On top of the rapid quips between the men and their jabs at each other, there are some delicious sight gags too. The film never makes a huge point of them, so look sharply for a picture of the Queen wearing Joker makeup, or the face of an airline passenger after Graham tries to defend his Hitler moustache. I enjoy comedy when it speaks for itself and lets us read the jokes without any help. By far my favourite scene is, I think, when Graham has to give an unprepared best man speech and is so high that he spends the whole time talking about something indescribable.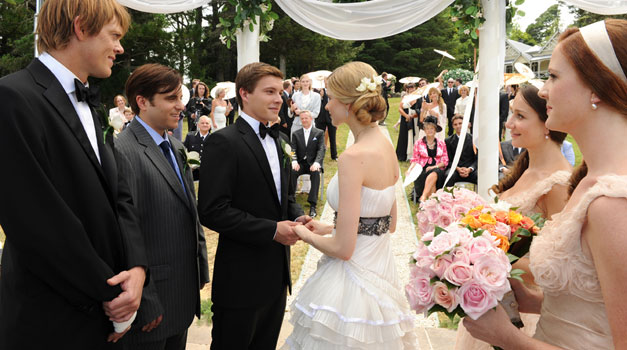 The silences of the guests and the way the camera scans the reaction of their faces is just hysterical. Screenwriter Dean Craig employs a lot of the same farce-like comedy from Death at a Funeral, with people behind doors, or moving in and out of rooms secretively. The material is reused cleverly because director Elliott gives us a complete overview of the impending chaos. Take the scene where the boys are trying to attend to the sheep they've tormented. The camera cuts to the corridor outside the room, providing vision of who is about to walk in on them. Just like the wedding speech scene, they know how to really build the tension and extend the jokes. The comedy works because there's a lot at stake. Just when you think a giant ball crushing the wedding is the craziest the film can become, you're wrong: it continues to reach new levels of insanity. For as well constructed as a lot of the film is, some of the editing is noticeably choppy. Snippets of scenes sometimes feel out of place, or interrupt confrontations and could have been removed altogether. This is a small complaint that most people won't notice and its mostly in the first half too. For all of this film's lunacy, and there's a lot, the tension comes from characters that have resemblance of actual feelings. David is a sympathetic lead because he's torn between his mates, his only real family we learn, and a far more prestige life that he is trying to adapt to. I particularly liked it when he and Mia started questioning how little they know about each other. It's a sensible turning point. The lovable lads are very distinctive and funny with their sets of problems but they share some of the laughs with the women too. I particularly liked Olivia Newton-John as the mother with a wild side. This gem of a film was absolutely delightful and I sincerely hope its quality is indicative of all Australian films this year.