Since his death in 1982, Hollywood has gone bananas over the stories of science-fiction legend Phillip K. Dick. There have been no less than nine film adaptations of his work, which vary from the iconic (Blade Runner), the cheesy (Next), the unique (A Scanner Darkly), to the just plain brilliant (Minority Report). The Adjustment Bureau, based on Dick's short story "The Adjustment Team," falls somewhere in-between: it's neither as sophisticated as Spielberg's opus or as generic as Nicolas Cage's junky effort. It takes many of Dick's usual themes of identity, free-will, determinism and the simulacra, and spins them into the form of a pleasant romantic thriller that showcases the effervescent chemistry between its leads, Matt Damon and Emily Blunt.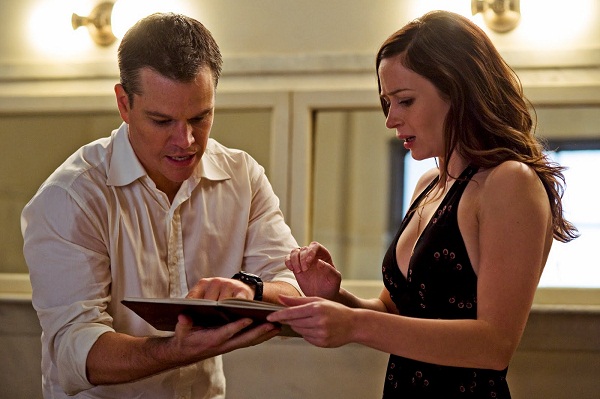 Damon and Blunt meet-cute in a men's bathroom. He, David Norris, is a politician on the brink of capturing a seat in the U.S. Senate while she, Elise Sellas, is a contemporary ballet dancer about to hit it big. There's an obvious spark between them. They fall for each other immediately in the way that only happens in the movies, but they're so sweet together you'll hardly mind. It's looking good for the new couple, but fate seems to be conspiring to keep them apart.
"Fate" in this case is the organisation of the title, a consortium of shady men (including a bemused John Slattery and The Hurt Locker's Anthony Mackie) who hover about in Mad Men hats and teleport around New York by popping in and out of doors. They're tasked by the powers at be to make sure "things go according to plan." They've got it in for Norris - his relationship with Elise doesn't fit their grand scheme, and they set about making sure their relationship never blossoms they way it obviously should.
Like the more restrained Stark-Potts relationship in the Ironman movies, leave it to a pseudo-action picture to re-ignite the 1930s screwball comedy charm that has all but evaporated from the modern romantic comedy. More than its themes of fate, free-will and making the "right" choice, the lasting impression of The Adjustment Bureau is of the warmth between its two leads. Damon and Blunt's characters so obviously belong together that it's easy to overlook the more conventional underpinnings of George Nolfi's script, which, like most adaptations of Dick's work, takes the concepts and jettisons almost everything else.
In Nolfi's capable hands (he wrote Ocean's Twelve and co-wrote The Bourne Ultimatum), that's just fine, and in this skillful and intelligent directorial debut, he paints himself as Tony Gilroy's less sophisticated cousin. The Adjustment Bureau also confirms something else: Matt Damon can do no wrong. From Bourne action hero, to a stint on 30 Rock, to his moving I-can-see-dead-people role in Hereafter (not to mention his memorable turn in True Grit), he's established himself as action star, comedian and character actor. The Adjustment Bureau plays off his best qualities, and he's found a perfect opposite in the plucky Blunt (The Devil Wears Prada, The Wolfman), who herself is a deserved rising-star.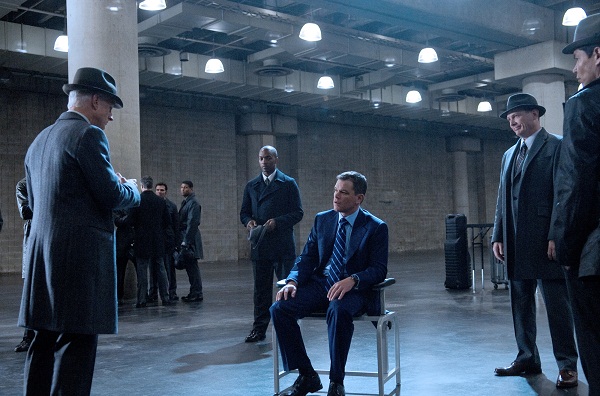 There's something inherently fascinating about cabals of well-dressed men gathering in rooms, scheming for the fate of humanity (a'la The X-Files syndicate or Dark City's strangers), and the film is filled with elegant details such as the dynamic Harry Potter-esque map carried by men of the Bureau which charts David and Elise's possible fates. There's an ease in which writer-director George Nolfi handles the out-there material. He doesn't over explain it, and like the best supernatural TV series (ie. The Twilight Zone), he's more interested in ideas than watertight plot mechanics.
It's hard to know what Phillip K. Dick would have made of this very loose adaptation - the film has a more romantic bent than he's known for, and the satisfying but safe ending undercuts many more intriguing philosophical possibilities. It sometimes stretches suspension of disbelief with its more outlandish concepts, but Blunt and Damon's charm makes you run with it. It's a smart, intriguing thriller.