Oz Comic-Con
This is Oz Comic-Con's second year in Australia and with pop culture shows like Supanova and Armageddon, it's definitely a hard market to crack with the aforementioned forerunners. With that said, Oz Comic-Con is like an interactive comic book but better!
However with the stellar guests that Oz Comic-Con managed to grab for their Melbourne show, it definitely gives comic fans the perfect place to be, not just from the guests and merchandise but the very cool attendees dressed in their favourite cosplay get up that really makes the experience.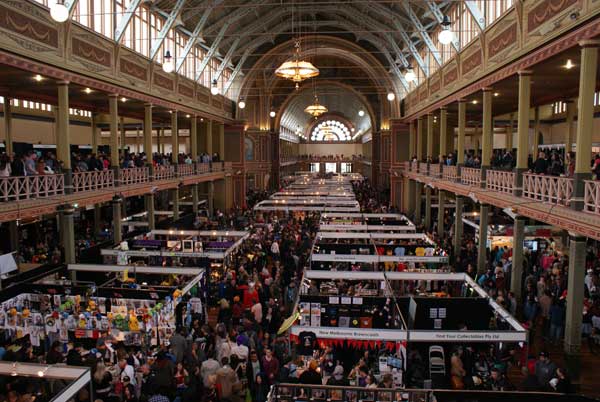 The Exhibition
Located at the Royal Exhibition Building in Melbourne, this two-day con (July 6 to July 7) is bursting at the seems with celebrities and some of the worlds greatest artists from the comic industry.
Spread over two floors of the Royal Exhibition Building, the ground floor contained more stalls than you could poke a lightsabre at which included comic shops such as Kings Comics from Sydney, Classic Comics from Melbourne, weaponry from Armoured Heaven and even a stall for the Star Wars Burlesque show and their excellent book, Wookierotica.
Then you have the Artist's Alley that showcases some amazing artists and writers from around the globe such as Phil Jimenez (Wonder Woman, Transformers) and Australia's very own Nicola Scott (Earth 2, Teen Titans) who to some lucky fans were giving them sketches. You could also purchase some amazing original art from the comics as well!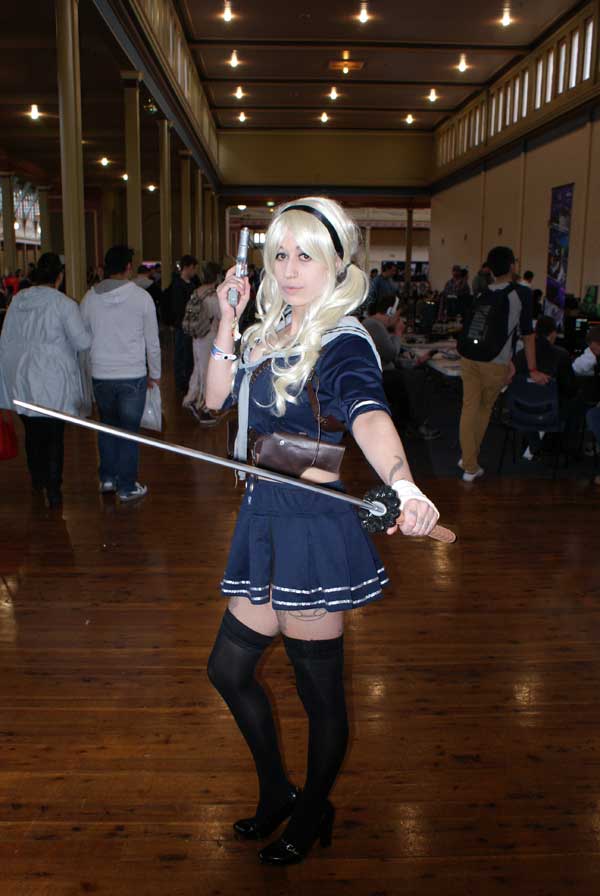 A Cosplayer as Baby Doll from Sucker Punch
The second floor of the exhibition had the photo booths where OZ Comic-Con fans could get autographs and photos with their favourite celebrities that included greats such as William Shatner, Ron Perlman, Cary Elwes and the delightful Tia Carrere.
This is only just the beginning because just outside the Royal Exhibition Building were a couple of stages that showcases the latest and greatest from the world of pop culture plus some awesome panels hosted by William Shatner, Tim Rose, Ron Perlman with the final day being the cosplay competition. It's hard not to get excited from the atmosphere of the con.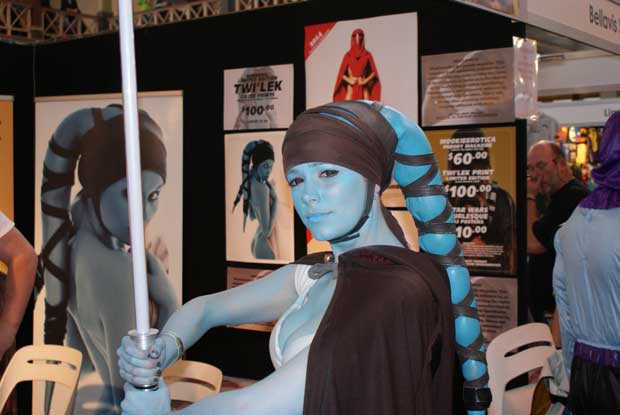 Twi'Lek from the Star Wars Burlesque
Final Thoughts?
If you're a fan of comics, pop culture, movies, video games and cosplay, than the Melbourne Oz Comic-Con is the place to be. It allows fans of these genres to celebrate the diversity of the industry and interact with their idols. Compared to last year, the 2013 Melbourne Oz Comic-Con has exceeded all our expectations and is hopefully going to be a staple of Australia for a very long-time. Just be warned that if you hate crowds, this is probably the place to avoid.