Circus Oz Cranked up
Circus Oz is an institution in Australia and are also celebrating their 35th birthday as they shared their unique circus larrikinism with the world. To celebrate their 35th birthday, they have returned to their home city of Melbourne as they present their latest show Cranked Up that features some of the strangest, funniest and most bizarre circus stunts to have graced the Birrarung Marr Big Top.
With around 12 performers and several people working backstage, Circus Oz Cranked Up is hosted by Mark, a true blue aussie who plays a Construction Worker in the show. His unique humour helps set the mood for the presentation, not to mention some amusing air guitar playing and a red kangaroo suit.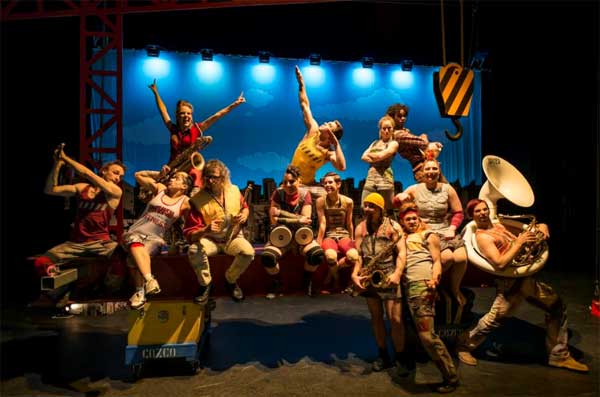 Ensemble © Rob Blackburn
Another key character in Cranked Up is Flip who plays fitness guru Fantaysia and is joined by her "son" Tay Tay (Kai) in some very impressive stunts and human juggling acts. However when it comes to juggling balls and other strange items, Hazel is the Queen who successfully juggles four balls and even a table with her feet. Bizarre but true!
But Circus Oz is not just about the circus stunts as music plays a key role to Cranked Up which is led by Carl who plays a myriad of instruments. Joining Carl in the band is Bec the Drummer, Ania the keyboardist (& other instruments) and sometimes Hazel and Jez who also lend both their comedy and stunt skills to this outlandish show.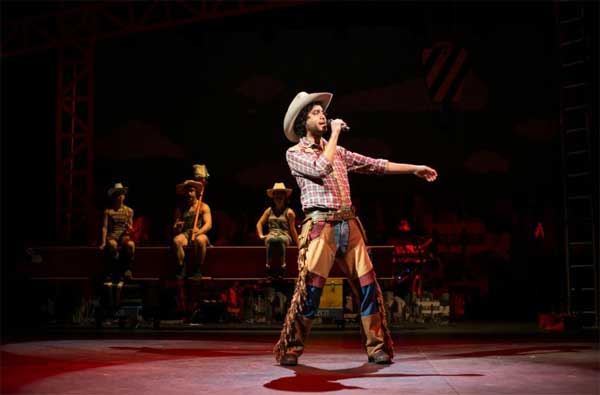 MarkSheppard © Rob Blackburn
To compliment Fantaysia and her crew of acrobats is Dez (Dale), Jez, Stevee, Tay Tay plus Mason and Shane who must be seen to be believed. Shane performs some truly deft defying spins and other awe inspiring tricks. Although his cupid character is a little creepy. Mason on the other is another anomaly who not only catches people on his shoulders but does this must see human trapeze act with Fantaysia.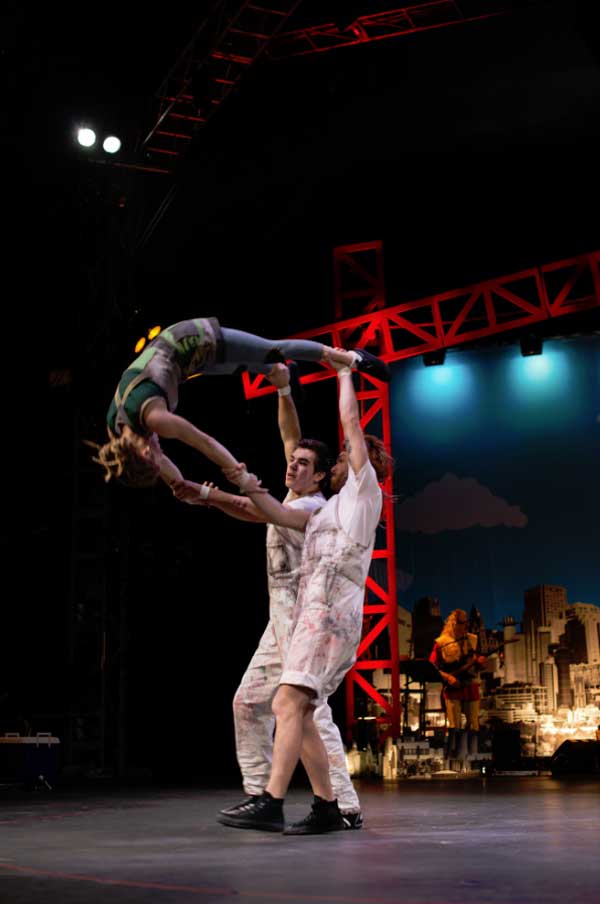 Up Toss The Girl - Kai, Dale & Amy © Rob Blackburn
From a spectacular opening to a variety of stunts, tricks and comedic events, Circus Oz could be considered the "Bad Uncle" of Cirque de Soleil in terms of their weird performances that borders more on bogan than fine arts... not that there is anything wrong with Bogans as somehow it works successfully in this show.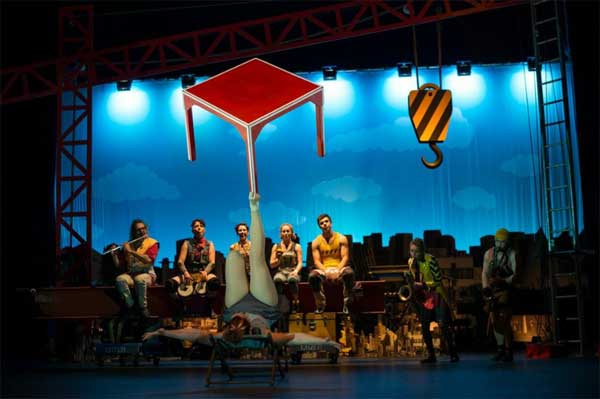 Foot Juggling - Hazel Bock © Rob Blackburn
Final Thoughts?
Circus Oz Cranked Up is a show that is busting with circus content plus a healthy dose of humour, comedy plus music and best of all, Circus Oz Cranked Up opens just in time for the school holidays. This performance is definitely child friend in terms of its contents and comedic routines which can be enjoyed the whole family. One downside of the comedy in Circus Oz is that some people may consider it a little juvenile but when you look at the clowns throughout history, this is what their humour is about but Circus Oz is definitely 100% Australian.
Nonetheless, Circus Oz Cranked Up is a wondrous show that not only celebrates Australia but promotes diversity, social justice and a good time for all. Indeed it does and if you need a good night out, this is the solution!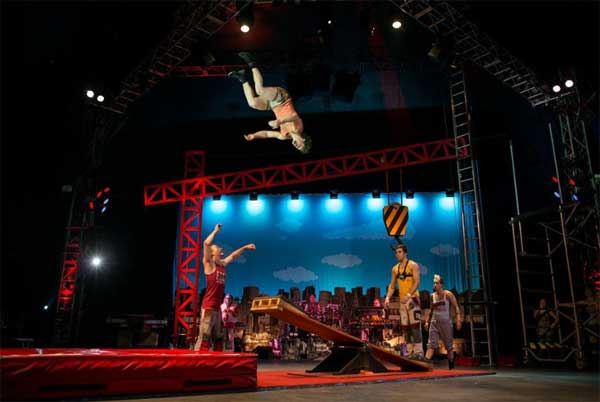 Teeterboard - Shane, Mason, Kai & Flip © Rob Blackburn
For more information, check out -