Wild Blood is the latest action adventure from Gameloft that transforms players into the legendary Sir Lancelot. The story revolves around Lancelot who has been called into action after his king, Arthur has gone mad and has unleashed Morgana on the world. As a result Morgana releases her undead and monsters on the lands of Albion to enslave the people. From there, it is up to Lancelot and player to save the citizens of Albion and return the lands to peace and prosperity... welcome to Wild Blood. Just don't tell Lancelot that he was the catalyst to causing this for sleeping with Arthur's wife!
At its core, Wild Blood in a third person action adventure which is more hack 'n' slash then adventure. Although there are a few puzzles along the way to help break up the action, the game is rather linear in nature which means after one play, you've pretty much seen it all. Nonetheless, what a ride... what a ride!
The first section of the game serves as a tutorial which teaches the player the basics of the game. Movement is done through a virtual stick on the bottom left hand corner of the screen and on the bottom right, your attack buttons are located. This ranges from normal attacks, heavy attacks and special attacks which is a collection of abilities that can increase your attacks. You also have the ability to dodge attacks and rush which definitely comes in handy during the battles.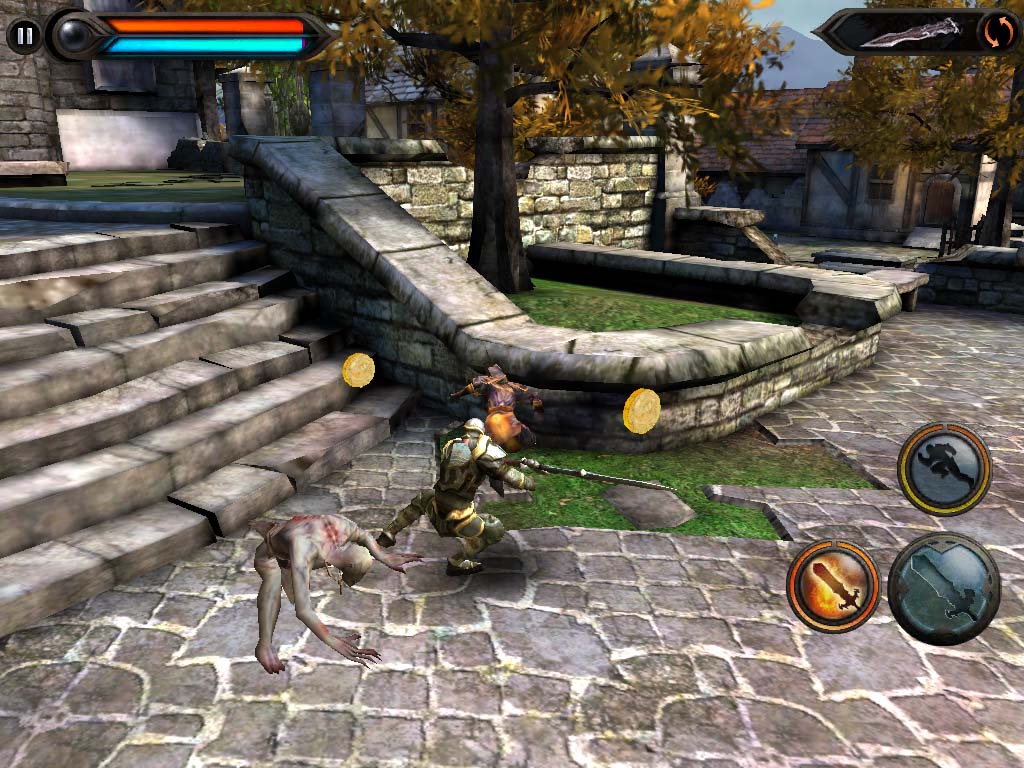 As you fight your enemies, you are awarded coins which can then be used to upgrade your weapon skills and there are various crystals located through the environment to give you temporary power-ups such as speed or better defence bonuses. For the most part, you will rely on normal attacks to defeat your enemies as you have a set number of mana for "magical" attacks.
The game supports two modes of play that include a single-player campaign and multiplayer, both are quite fun to play. As you collect more coins, you can upgrade a variety of facets of your character that include damage, critical attacks and quicken (speed) plus the ability to level up your elemental attacks that include fire, ice and lighting.
One element of the game that I despised was that if you do not have enough coins, you can purchase a coin pack through your iTunes account. I'm not a huge fan of pay for play gaming but if you want to advance up in the ranks fast, this is the way to do it. You can however rely on good old fashioned gaming. But still...
Enemies in the game range from easy to hard and as you progress, you'll fight some great boss battles along the way while rescuing citizens of Albion from these monsters. There is even a sturdy multiplayer segment in the game which allows players to connect online with up to 8 other players for death match and capture the flag play. I was actually quite surprised at how good the online modes were. All in all, it's probably one of the best iPhone and iPad games that I've played all year.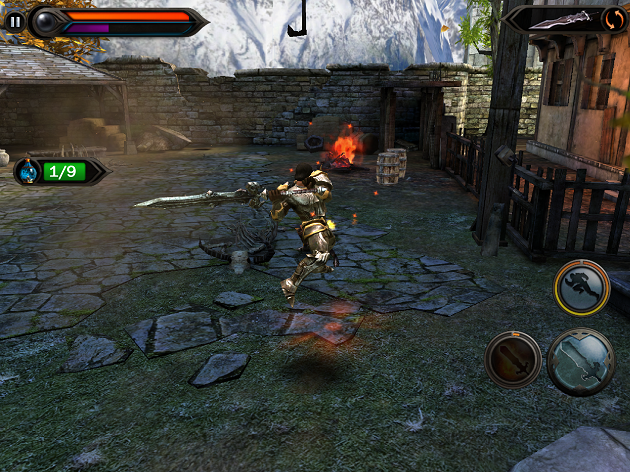 Powered by the Unreal Engine, Wild Blood looks and sounds amazing on both the iPhone and iPad. It's easily the most impressive game that I have seen on these smart devices. The gaming world is quite detailed and dare I say, put some next-gen console games to shame. Whether it's the crows flying in the environment, the impressive magical attacks that Lancelot unleashes or texture details, Wild Blood is one decent looking game, even with the sometimes clunky camera system.
Final Level
The only drawback of Wild Blood is the extremely lengthy loading times on the iPhone 4S which includes when you first load the game and when you first jump into the game. It's very long but as the gameplay is so sturdy, you pretty much forgive this sin... although it is a pain. Fortunately it's far superior on the new iPad. Sounds effects, voice acting and music suit the title perfectly and really help create this entertaining sword and sorcery game. At the end of the day, Wild Blood is a game that all fans of this genre should get!