Having LOVED Disney's Where's My Water, I must admit that I was extremely apprehensive with their almost identical game, Where's My Perry that in essence replaces the main character of the previous game with Secret Agent Perry, a fedora wearing Platypus from the cartoon series Phineas and Ferb.
From the get-go, I thought this remake of Where's my Water was just another cash-in by Disney like the re-badging of another game with the movie Brave. As the first few levels were reminiscent of Where's My Water (e.g. using your finger to move your water from point A to point B), things slowly began to change in the game.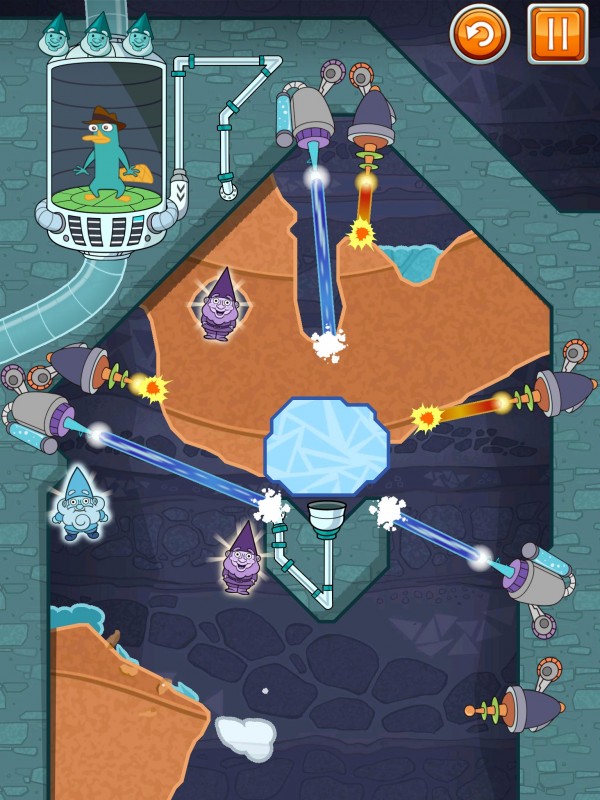 The developers started adding new bonuses and abilities to the player that definitely challenge you on how to complete the current puzzle/level which you were on. For example ice and steam are now key parts of the puzzle and as opposed to rubber duckies from Where's My Water, these have been replaced by Gnomes.
With 80+ levels, this game will keep both casual and hardcore gamer entertained and addicted as they attempt to scratch off each level. By collecting the gnomes, these will unlock bonus levels for the character called Balloony, another link to the TV series Phineas and Ferb.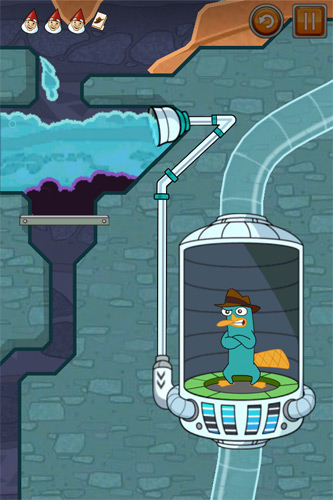 As you attempt to collect the gnomes and steer the water by cutting through the dirt with your fingers, you need to interact with the various "crazy-inators" that include the heat-inator for steam, cool-inator for ice or steam to water and finally the celebrate-inator which works as a vacuum. These are the key to Where's my Perry and are what the puzzles are based on. Needless to say, they work quite well and really give you a cerebral challenge.
If you enjoyed Where's My Water and want to continue these addictive similar themed puzzles, than you should check out Where's My Perry that takes the franchise to a slightly different place with updated graphics, cutscenes and gaming. Just be warned that the game can become extremely frustrating as you progress but for 0.99 cents, it's well worth it.