The iPhone has truly revolutionised mobile phones and the 3GS model was the definitive step for Apple. Whether you're checking e-mails, surfing the net or playing games, the iPhone does it all and with GPS, there's no excuse to getting lost again. Although the TomTom app has been out for just over a year, Impulse Gamer finally got the chance to review this powerful program which retails at $79.99AUD (August 2010). Best of all, TomTom has had a year to fix any bugs and after a 266MB download, we were ready to test one of the most innate and friendliest GPS navigation systems.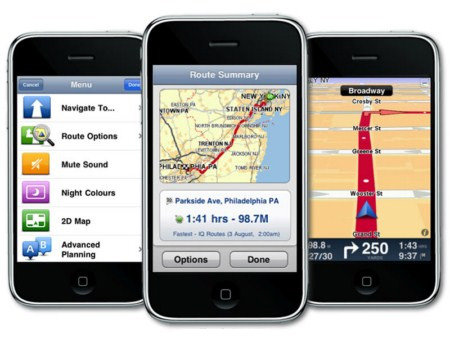 Once the installation was completed, I was greeted to a rather intuitive menu system and if you have used other TomTom GPS products before, than navigating the app is child's play. Of course, even if you haven't, using the program is relatively quite straightforward thanks to the menu system. Whether your looking for service stations, preparing trips in advance or looking for points of interest, this app had the full functionality of similar standalone GPS units... except that it had the capabilities of the iPhone 3GS.
The main menu of the TomTom Australia app contains the following;
Navigate To
Home, Favourite, Address, Recent Destination, Local Search Points of Interest, Contact (From iPhone Contacts), Point on Map & Coordinates

Route Options
Find Alternative, Route Demo, Clear Route, Instructions, Map Route & Share My Route

Mute Sound
Night Colours

3D Map

Advanced Planning
Home, Favourite, Address, Recent Destination, Local Search, Points of Interest, Contact, My Location, Point on Map & Coordinates

Browse Map

Help Me
Phone for Help or Drive to Help

Manage Favourites

Call POI
POI Near Me, POI in City, POI Near Home, POI Along Route & POI Near Destination

TomTom News
News, Updates & Addons

Change Settings
Voice, Alerts, Audio, Map, Route Planning, Distance Units, About, Advanced & Reset to Defaults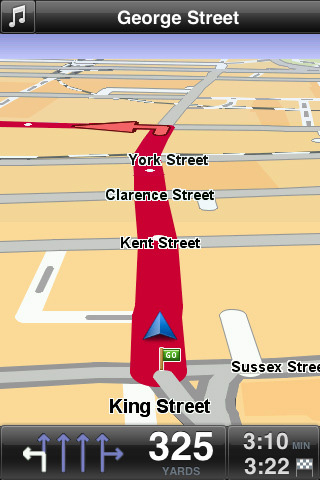 As you can see, it performs a variety of features such as 3D maps to finding points of interests which ideal for people going on holidays. For me however, the most impressive feature of this app is the ease of use. Simply enter the city, suburb and street number and presto, it will activate your GPS and attempt to find the best route to your intended destination.
It even detects tolls, ferries and the like plus if you accidentally get lost, it will calculate a new route. Another great feature is the route planning that calculates times and even other stops along your destination and once again, it is quiet easy to access. It should also be noted that this current version of TomTom Australia had all our latest changes in suburbs close to our offices and it even notified us of red light cameras and even displayed the current speed of the streets we were driving in. Like standalone units, TomTom Australia even displays the speed of your vehicle and should you be speeding, it will turn red on the unit.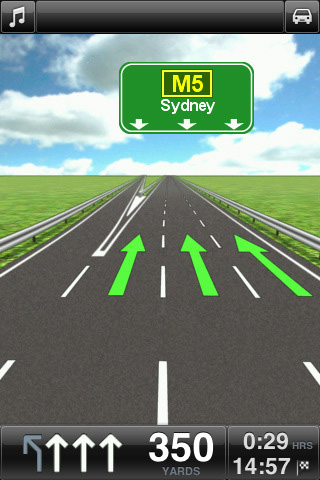 Unlike some other apps currently available, this application does not use your mobile phone to navigate but just the GPS of your phone so you can be rest assured that you won't be paying for internet time on your iPhone.
However all these cool features do come with a price and on the iPhone 3GS, sometimes, depending where you are, it does have difficultly with GPS reception. This can of course be fixed by the TomTom cradle which contains a stronger GPS signal than your phone and supports a variety of features from hand free, connectivity to your car stereo (music) and it can be nicely attached to your windscreen. The price of the cradle for the iPhone is around $159.95AUD and once you add the price of the cradle to the purchase of the app, some may benefit from a standalone GPS system.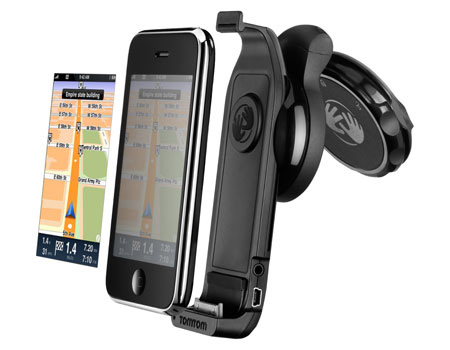 Another issue with the app is that it is a battery hog and the iPhone 3GS does become quite warm when it is using the GPS system of this smart phone. We are hoping to test this app on an iPhone 4 soon and this review will be updated with our results.
Apart from that, the TomTom Australia app for the iPhone is a brilliant program that we would happily recommend to a variety of iPhone users. Of course, if you are heavily reliant on a GPS, a standalone unit may suit your purposes better but to include a fully featured TomTom application on your iPhone, we were impressed! It's definitely great value for money on your iPhone and once again proves that this smart device is truly a one stop shop.
#: App is also compatible with certain models of the iPod Touch in conjunction with the TomTom iPhone cradle