We've seen quite a few "The Sims" on the iPhone/iPod Touch of late that have included hits such as The Sims 3 and The Sims 3 World Adventures. EA Games have also just recently released The Sims Medieval on the PC which took the franchise to a whole new level but still ensured that it remained connected to its original roots. Needless to say, it was a much needed change to the franchise and now users of the iOS (e.g. iPhone) can now experience a cut down version of this game with The Sims Medieval!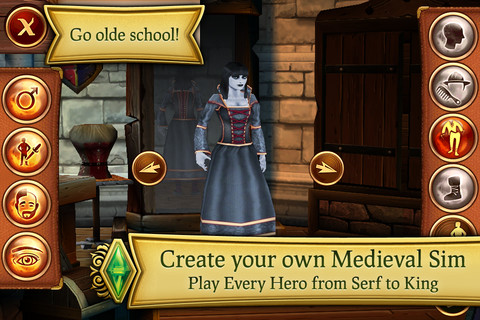 However before you get started in your virtual world, you first need to create your medieval Sim (e.g. character) that include a variety of personality traits and more importantly, quests that must be completed in order to better your Sim. The game does allow you to tweak the appearance of your character and there's some cool non-human type characters with blue skin and of course, you can select the gender.
The tweaking of your characters is quite intensive from different clothes to hair colour and lots lots more. Once your Sim has been created you need to select their history that includes traits like "Naughty" which include naughty jokes and petty thefts to something more noble like gentlewoman or gentleman that makes you quite polite and chivalrous. Once your history has been chosen, you then choose your personality which contains quite a few variants such as friendly, narcissist or unstable for example. Finally, you give your Sim a name and you can then start your virtual life journey in this amazingly detailed world for an iOS title.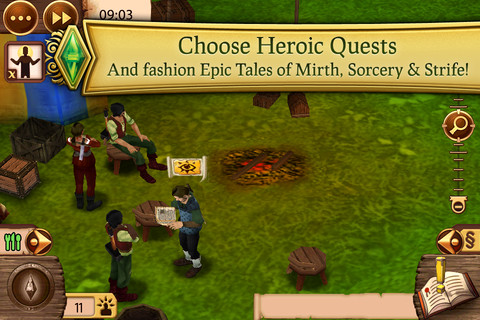 Although the normal Sim interactions are still contained in The Sims Medieval such as buying things for your home, falling in love, eating and sleeping etc, quests for your Sim does change this game into more of an adventure game as there is a real sense of progression such as becoming a powerful wizard or ruling a castle. That is the main goal of your Sim and it works quite well on the iOS version. Whether your an evil wizard or the village idiot who wants to become King, it is all possible in The Sims Medieval with a touch of RPG thrown into the mix. However it's still great that you can stop and smell the roses such as making friends or if you're a little naughty, pick pocketing your villagers.

Once in the game, it's time to explore this sandbox world as you engage in the tutorial which explains the controls on the iOS and how to move and interact your character with the world. When you have the basics down pat such as the camera control, feeding your Sim and moving them, it's time to commence your socialisation and more importantly your quests. Quests help establish your characters and it has been said that The Sims Medieval is reminiscent of the excellent series Fable as you engage in a variety of bizarre, normal and sometimes magical quests, depending on your character. It's basically an amalgam of the Sims meet RPG. As you explore the village where your Sim lives, you need to interact with people in order to be given tasks as opposed to your main quests. These tasks might be quite mundane from fishing which is actually quite relaxing to something more exciting like engaging in a battle that is relatively easy. So casual gamers can breath a sigh of relief!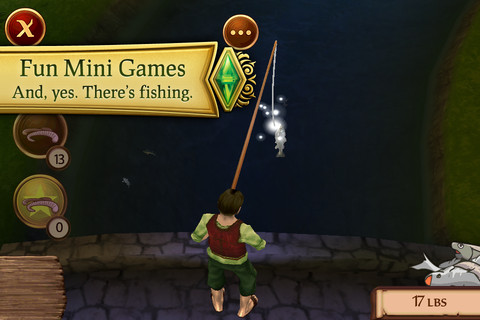 Graphically, the game is probably the best looking Sims on the iOS with some great attention to detail, especially the environments that you visit and the characters, not to mention the cool special effects. The only problem with the graphics is that at times the interface is so small that it makes the touch screen a little too difficult to use. Even so, you do get use to the small screen and it mostly works well... mostly. Musically, the game features a medieval soundtrack and those classic Sim sound effects to go hand in hand with the gameplay. All I can add is bring on the iPad version!
Conclusion

In conclusion, The Sims Medieval is definitely one for the fans but even those who have never played this franchise before will get a kick out of it. It may not be the same as the PC version but its developers have managed to squash as much of the gameplay and graphics into the iPhone/iPod touch. Best of all, the game does offer some replay value with the other characters and traits that you can select and my only gripe is that some of the interface is a little fiddly to use on the iPhone/iPod but apart from that, a job well done.