The ultimate "people" simulator has arrived on the iPhone and iPod Touch with EA's The Sims 3 World Adventures. When I first heard that the Sims 3 World Adventures were about to be released on this format, let's just say that I was quite dubious. It would not work I thought to myself because you need a mouse to play. Even when they tried to port the game to lounge room consoles, it still didn't work. how can you play this game without a mouse? It's not possible! Boy... was I wrong.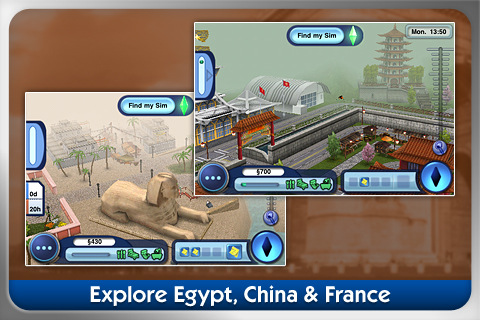 The first thing that you notice about The Sims 3 World Adventure is the gameplay which creates a high level of enjoyment thanks to its streamlined interface. Then you have the graphics, almost a carbon copy of the PC game and finally, that classic Sims music and all that Mr. Bean type Sims babble-talk. However in order to be successful, some components of the main Sims game was removed from the portable version. This is not a bad thing but it streamlines the game and removes unneeded complexities. Fans will miss it but the opportunity to play this on the iPhone or iPod Touch? That's what it's all about!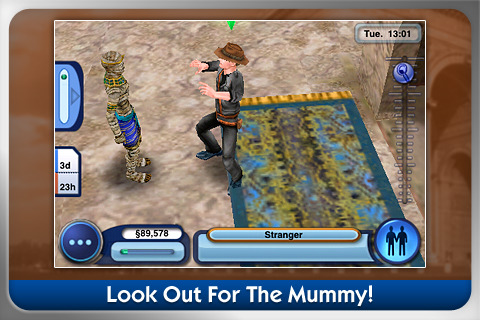 Before starting on your World Adventure, you need to create your Sim avatar from gender to appearance and personality. Once you have chosen your Sim, you begin the game in your humble little house. For those unaware of the Sims, it's basically a people simulator which requires you to control a Sim (person) in this virtual environment. You need to ensure that your Sim is fed, goes to the toilet, ensures that they have good hygiene, is entertained, has friends, romance and even works for money. By working you can then give your Sim additional luxuries such as new Plasma TV's, new furniture and even cars. This is all deliciously addictive.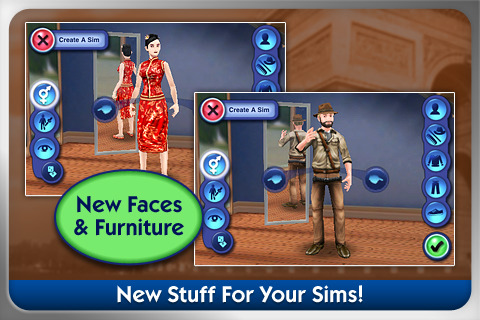 However although this game is based on The Sims 3, World Adventures allows your Sim to traverse the globe and visit exotic and glamorous locations such as Egypt and China... plus all the famous landmarks. Simply by going to the airport or the travel agent, you can organise your trip to another country. Another facet in World Adventures is that your character has a set number of dreams or goals that he or she must achieve. For example, one of my goals was to visit Egypt and see the pyramids, whereas another goal was to use a toilet in a foreign Sims house. Weird but fun. I was also deported from Cairo because I didn't have enough money. Very amusing.
The main hub in the Sims is your home that is situated near the airport and the city where you can find a job like the Museum or even purchase food from the store to making friends and relationships. Whether its a traditional romantic relationship or something more modern, this game allows for all. But in order to keep your friends and relationships, you need to interact with them and simply by clicking on them, you have access to a menu which allows you to tell jokes, flirt and even tell them secrets. By continuing this process, it will form good friendships, relationships and even romantic partnerships. If you ignore them, your relationships and friendships will soon start to fall apart. Compared to the PC game, the micromanagement aspect of this game is limited but there is still a considerably amount of things to do. If you're good at juggling, that will help.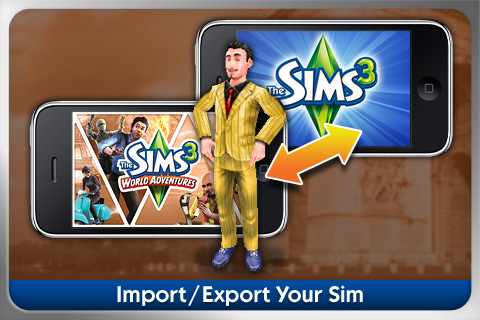 The control system on the iPhone 4 is perfect for World Adventures. The menus are quite basic and the interface is all point and touch. You simply touch something or someone in your gaming environment and this will bring up a pop-up menu. If you touch a stove, you can cook dinner, however you first need to purchase recipes and food or if you're feeling adventurous, you can travel to France to learn a new one. Whether your accessing the town or your wish list of goals to achieve, the interface is rather flawless on this device. Best of all, the player and their sim interacts well with everything around them. There were only a few times that I accidentally clicked on something that I shouldn't.
To compliment the great gameplay, the graphics of World Adventures looks great on the iPhone 4. The attention to detail and the smooth animation fits the gameplay perfectly and it's all the small things that will put a smile your face like your Sim hugging another one or when you have a shower, the game blurs all the nudity out. It's all classic Sims here on the iPhone or iPod Touch without any complicated menu system or convoluted gameplay. There's some definitely great quality assurance going on here. Loading screens are very quick as well and during these loading screens, the game will tell you a world fact like 9 million people around the world have the same birthday as you.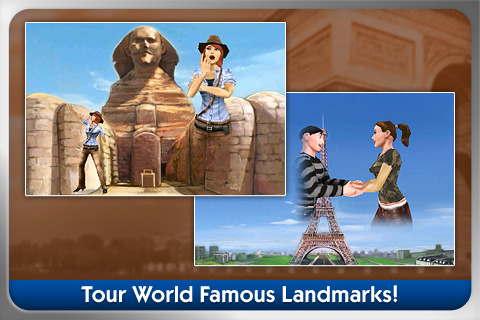 Just be warned that the gameplay of The Sims 3 World Adventure is quite addictive and even though I have completed the game (if that's truly possible), I've started a new Sim with new personalities and new goals. This is what iPhone and iPod Touch gaming is all about and remember that free is not always good on these devices, so do yourself a favour and purchase this game now! Gaming doesn't get any better than this!