One of the world's most popular "life" simulation games comes to the iPhone with The Sims 3. Although it may look like a straight PC port, this game has been redesigned for the iPhone and features that classic and zany gameplay which made Sims a worldwide hit on the PC. You may be thinking that this game is The Sims-lite for the iPhone? To an extent it is but it still offers a very in-depth and engaging experience from start to finish.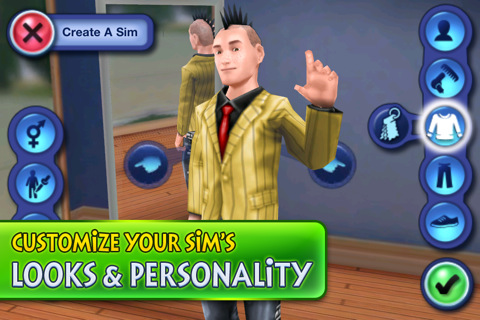 Before embarking on your virtual life, you need to create your avatar that includes gender, appearance, personality and characteristics. Once you have created your virtual character, you need to start your Sims life by performing a variety of daily exercises from eating, going to the toilet and of course entertainment. It's all juggling game as you make friends, cook dinner, buy furniture and ensure that you have enough hours of sleep. If you fail to achieve any of these, your character will see an untimely death.
Your characters also have lifetime wishes that must be achieved by the player in order to appease your Sim such as learning a new recipe, kicking over someone's bin or some other weird act. There are a considerably amount of wishes to be achieved and sometimes they are tricky because your Sim has to live their life and ensure all facets are covered. With over 70 wishes available, EA have thrown a golden carrot into the mix and if you achieve all your characters wishes, this will unlock a new career that can be chosen by the player.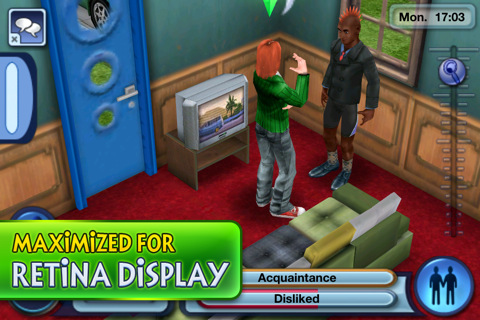 Micromanagement plays a huge role in this game as you upgrade your house, go to work to earn money, purchase new items, invite friends over to watch TV and so on... sometimes it's mundane but for the majority it's fun. It's also cute to see your Sim get blurry when they go to the toilet or have a shower.
With all these activities, there is even some romance available or if you're a worker, four career paths are available to the player with promotions and the like. Working is a key component and takes up the majority of your day in order to bring home the bacon to purchase additional necessities and luxuries. Thankfully you have 16 hours of play and sleep after this.
Talking to other Sims opens up a menu of choices for the player that to some extent is dictated by your Sims personality as you flirt, joke and have serious conversations with them. And yes, same sex relationships are possible in this game.
The Sims 3 contains a variety of mini-games from cooking that requires you to shake your iPhone around to repairing fridges and computers by connecting new circuits. All in all, these mini-games add to the longevity and entertainment factor of this game.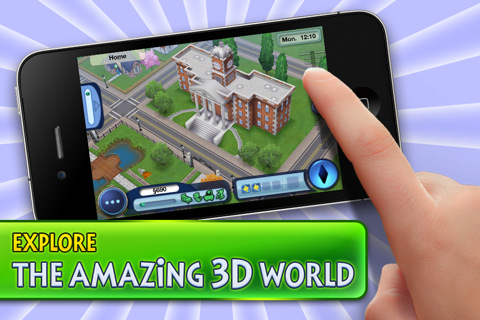 Graphically, the Sims 3 is a good looking game on the iPhone with some great attention to detail. The Sims are animated well and interact perfectly with each other. Your house can be as cluttered or as Spartan as it's your choice. The game does zoom out once you leave your house to see the entire city and you can even visit friends and strangers and even sleep in their beds if that's your shtick. The music is ambient and friendly and the sound effects contain all that classic Sim talk and sound effects.

In the end, The Sims 3 is a brilliant game that will promise players hours upon hours of enjoyment. Although different from the PC version, this is the perfect mobile version and the only thing I could recommend for this game is some multiplayer interactivity somehow. With a sturdy gaming engine, great graphics and the ability to play this anywhere and anytime, The Sims 3 comes highly recommended!