Developed by Firemint, Spy Mouse is the courageous "tale" about a little mouse who happens to be a spy and must avoid all obstacles in his environment to steal the cheese and escape. With that said, this top down action puzzle game requires the player to navigate the mouse with their finger to the cheese but to compound the situation, there are a variety of problems that must be avoided like cats.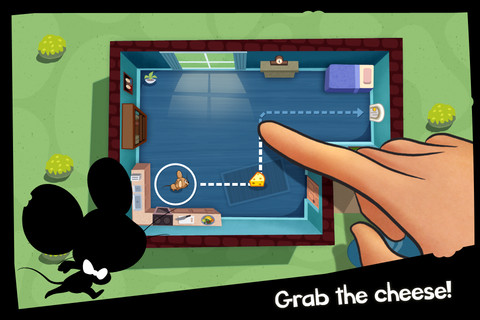 Each level also has a goal that must be achieved such as completing the level in a set amount of time or some other hideous gaming strategy. If you do get caught by a cat, you basically need to start the levelagain but interestingly enough, there is actually an element of strategy behind this simple appearing game.
For those who played Spy vs Spy, the game does have elements that mirror this game because guile and strategy must be used in order to successfully complete the level, be awarded the points and the bonuses for times plus other goals. There are a variety of levels in the game (72) as you move from to house to house stealing the cheese.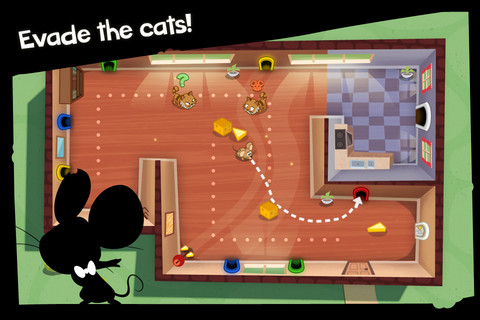 On some levels you have to "knock-out" the cats by luring them to a particular part of the screen that in essence puts them to sleep while you can move to another part of the level. Another issue with the gameplay is that your finger also makes a trail for your mouse to follow, so if you make this trail too long or short, it can cause issues such as being seen by a cat for dawdling.
Even though some may think the gameplay is quite basic, it's actually quite addictive but in a good way as you attempt to beat the obstacles that your spy mouse faces plus trying to achieve all those bonuses. With a variety of diverse levels, you might be playing Spy mouse for a considerable amount of time in order to get that all so important piece of cheese.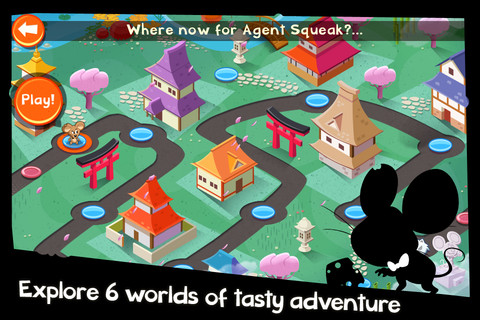 Graphically, Spy mouse is quite cartoony looking with colourful graphics and well animated characters. The soundtrack is brilliant and sounds like it has been taken out of a cartoon revolving around spies with its sneaky sounding music. Sound effects are also fun and all in all, this game comes together rather well.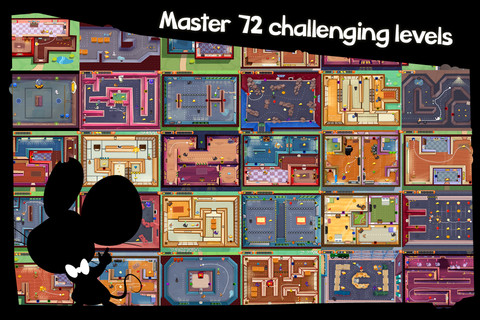 Final Thoughts?
Even if you have finished this game, it does offer up additional gameplay because of the goals and scores that are sometimes impossible to achieve. If you're looking for something to waste... err... take up your time, than Spy Mouse may be the perfect solution! It's clever, fun and addictive.
Check it out!