If you loved Skate on the PS3 or XBox 360, than Skate It will be your skating cup of tea. As opposed to those convoluted skating games already available on the iPhone and iPod Touch, EA have actually made one of the world's first real skating games for this portal device... dare I even say flawless?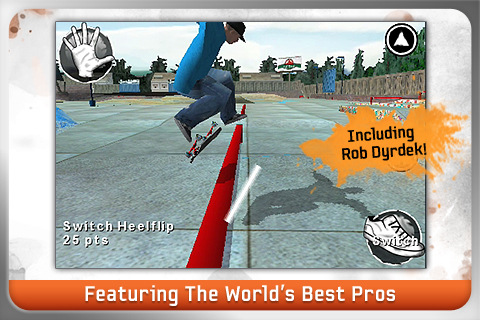 Featuring two strong gameplay modes that include "Freeskate", the ability to skate anywhere in the game without any boundaries or "Career" which allows you to create your own skater and move your way up the skating ranks, both modes are fun to play and you can really tell that the developers have some strong programming from the ground up.
The main difference between freeskate and career is that in career mode, there are several challenges/missions that you need to complete from ridiculous grinding scenarios to taking that perfect skating snapshot. And as you progress, your skater slowly starts to make his way up in the world of skaters and those elusive tricks now become part of your trick list. Freeskate is equally just as fun and great to fine tune your skills or just to try different thing.
Add in a variety of tricks from grinding to kickflips and quite a bit more and Skate It is easily the most engaging skating game on this format. Best of all, controlling your skater is a breeze, thanks to virtual stick in the bottom left hand corner of the screen, a skating shoe on the right hand corner of the screen to help you move and finally the tricks which is done using the touch screen and your fingers.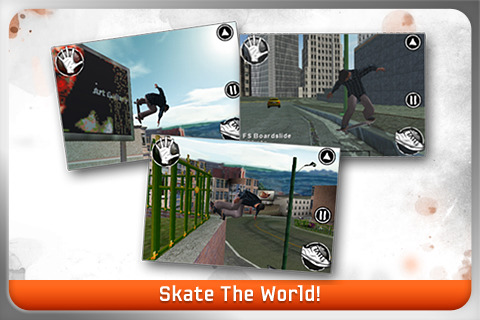 To successfully pull off a skating manoeuvre, all you need to do is ensure that your skater is moving and then touch the screen in a particular shape or direction. For example in order to do an ollie, you just slide your finger up. For a kick flip, you just move your finger up but to the left. It does get harder, such as the nollie laser flip that almost creates Harry Potter like runes on your screens. Thankfully the game doesn't throw you in the deep end because you slowly build up your trick lists.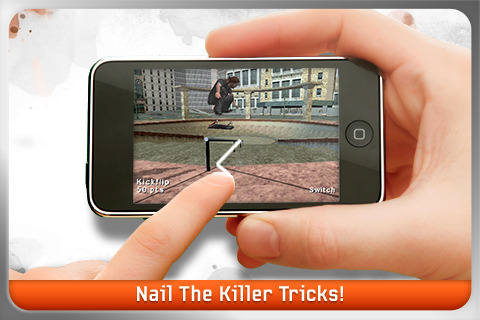 Apart from skating in a variety of cool locations, you can even save your replays for playback or show them to your friends at another date. I've played my fair share of skating games in my life and I never thought a skating game would be this good on a mobile device. It may not be 100% perfect but is it close. This is one game that I can foresee myself playing for a very long time.
With perfect graphics and a pumping skating soundtrack, Skate It is one game you'll be coming back to more and more in order to beat those scores and hopefully succeed beat those sometimes impossible tricks. The more you practice, the better you will become at Skate It, so what are you waiting for? Go iTunes this game now and become the best damn skater in your virtual neighbourhood!