Cygnett Frost
Matte slim case
I've just noticed something with the iPhone 4 cases from Cygnett. All the packaging for the variety of cases has a little circle window on it. What's this for? I'm glad you ask because through the window, you can actually put your finger through it and touch the case. If you ask me, this is a rather cool campaign for getting users to purchase their cases because most companies shrink wrap them like there is no tomorrow and you don't really know what you're getting until you get home. Not so with the Cygnett products. But not all their products support this but quite a few do.
But you're here for the review and this time, we're checking out the Frost Matte Slim Case. In terms of design, it's a rather neutral case that comes in a plethora of colours which include Red, Pink, Purple, Blue, Orange and Black. We reviewed the Black unit which does look rather professional but those other funky colours will catch the eye of the fashion conscious.
The rubber like material (polycarbonate) gives the user additional grip while using the iPhone and as expected, you have full access to all buttons and connectors on the device. Compared to some other cases, it's quite slim fitting and doesn't really add any bulk to your phone.
However what I liked was the material used to create the case. The polycarbonate design helps keep finger marks to a minimal on the case. In terms of the screen, it comes with a screen protector that is relatively quite easy to install and comes with a fibre micro cleaning cloth to keep the screen clean as well.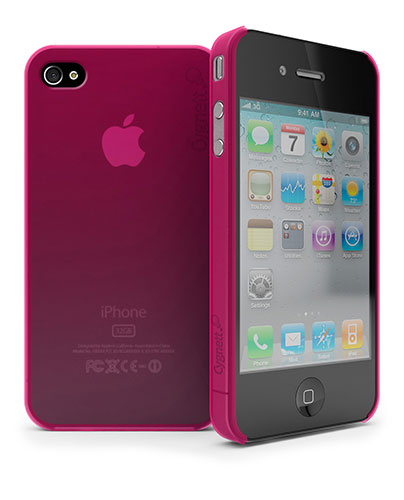 All in all, it's a decent case that boasts a wide range of colours and comes with a very enticing 2-year manufacturer's warranty. It's sexy and it's slim! Recommended!