What do you get when you include every red neck stereotype and off road racing stereotype??? The answer is reckless racing, a game exclusively created for the iPhone or iPod Touch that features racing, racing and lots of hick references. It's definitely one of the best racing games of 2010 on this smart device!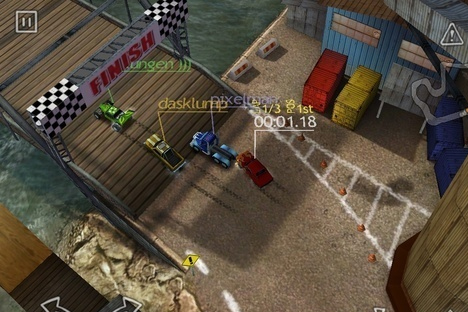 In essence the game is a racing title that contains a wealth of interesting outdoor tracks, different vehicles and some great game mechanics. The gameplay works perfectly on both the iPhone, iPod Touch and IPad and is a joy to play.
With a variety of different game controls, the most sturdy control is the traditional or classic controls that requires the player to use the touch screen to steer as opposed to tilting the device. It's just gives you more accuracy and fun.
With some great tracks, the graphics look amazing on these smart devices and there are lots of jumps and obstacles in the way to add to the challenge. I'm actually surprised at how good the graphics are actually.
For gameplay, the title features two different types of difficulty with traditional rally racing, hot laps, online leader boards and yes... even multiplayer! Controlling the cars is very easy and all cars are quite responsive.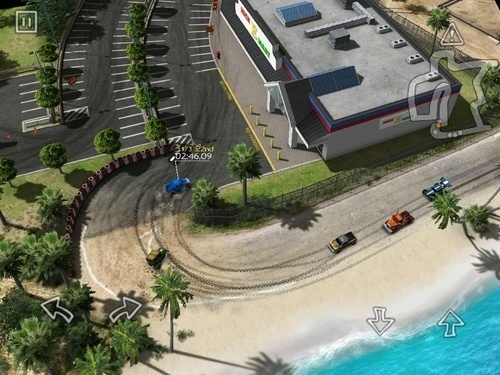 There are no issues. Online player is just as cool as single-player and does help break things up when you play against real players because the only downfall of the game is that sometimes the AI is a little too easy.
Graphically, the title looks amazing on the new iPhone 4 thanks to the retina display. he sound effects are great as well and really enhance the gameplay with its Hill Billy style of music. It's definitely a must see game to be believed.
In the end, reckless racing is a fun top down racer with gameplay to die for. Like those classic top down racers of yesterday, this is one game you'll keep coming back to time and time. Recommended!