I remember this game back in the old days of video game arcades and here we are, several years later as R-Type has made an interesting and retro comeback. At its heart, R-Type for the iPhone/iPod Touch is a traditional side scrolling space shooter that requires you to destroy a variety of space ships as the game moves along. With almost a never ending number of enemies, R-Type was a penny pincher and for those who completed it, they were the kings of this genre.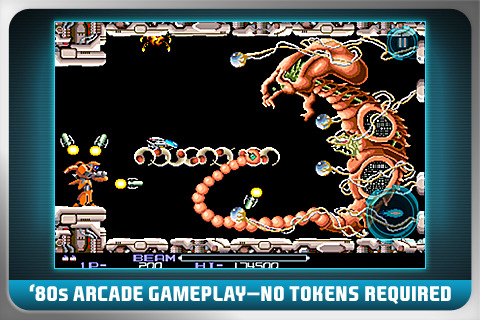 So here we are again, 23 years later and the iPhone/iPod Touch is the device of choice and thankfully not much as changed, besides some slicker graphics and balanced gameplay. Best of all, you still have access to all those cool power-ups, shields and the like to help you in the process as you annihilate your enemies. However what makes it so interesting on this device is that it contains three different gameplay modes and although not as fun as the old stick and buttons, it does provide some good solutions to both casual and hardcore gamers.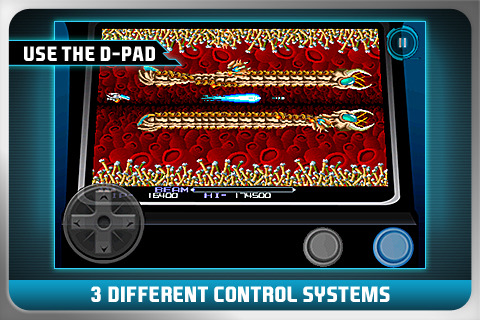 Historically, the game was originally launched in 1987 and thankfully this makeover keeps the original gameplay intact as you navigate your way through space and challenge a variety of interesting bosses which was a staple to these games. Some of these monsters are robots to organic creatures and are just as fun to face today as it was yesterday. In terms of controls, you can use it with a traditional D-Pad (see screen above), a tilt system (not so good) and finally, you can use your finger to control your prototype R-Type (weird because it blocks a little bit of the view). You can't beat the D-Pad touch screen option though that is reminiscent to the original.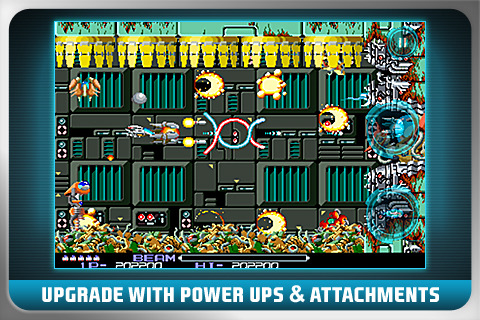 The game also supports an auto-fire option that does make it a little easier to play but when the action heats up, sometimes it does become a harder when all the bullets and ships are flying around. So does it work? On the first control system, we find that it does and even though it doesn't add anything new to the world of gaming, it's a great trip down memory lane.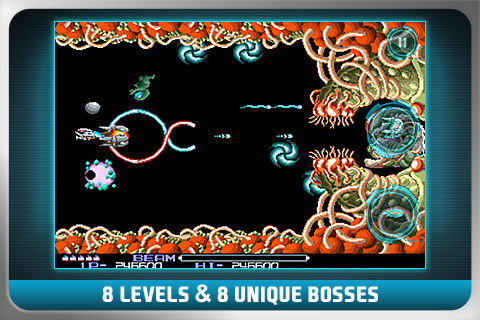 Graphically, this is easily the best side scrolling arcade shooters for the iPhone/iPod Touch with good ship models, great special effects and smooth gameplay. The soundtrack pays homage to the original game as do the sound effects that sound perfect through the headphones or the speakers of the smart device. All in all, it's a good looking and sounding game.
Final Thoughts?
Initially it may take some people are a little while in getting use to the controls but once you have mastered them, R-Type goes from a mediocre game to something decent but just be warned, the game can sometimes be frustratingly annoying, especially when you keep dying and dying but persistence is the key and the answer to your rewards.