In Need for Speed : Most Wanted you utilise dozens of high powered rides, to race on several tracks, while evading police in your quest to become, you guessed it, Most Wanted.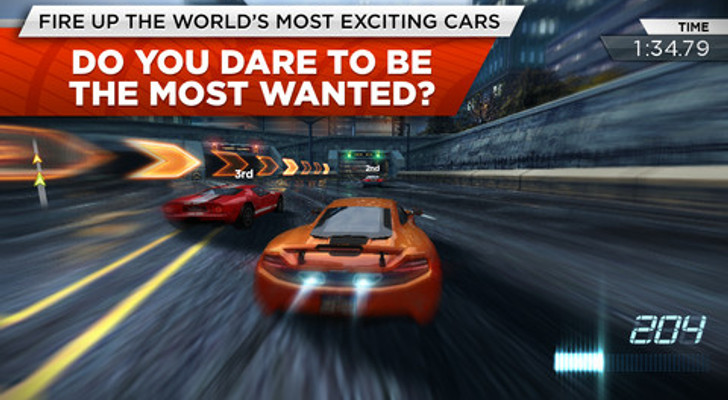 As you start off, you have a small selection of cars available to you and only a limited number of tracks to start racing. Other tracks are gradually unlocked as you win races. The races all take place on street tracks set in both urban and country locales. The same tracks are used several times, with different race types or different times of day. The tracks do look good, with great detail and convey the sense of speed. They all do start looking the same after a while so the character of each is not really brought out.
There are a couple of control schemes available. Tilting the iPad is the default scheme somewhat similar to using a steering wheel. Initially I doubted the viability of this as it reminded me of Super Mario Kart Wii, but surprisingly, it feels natural and reasonably responsive. The second scheme involves a virtual steering wheel in the bottom left that you drag left and right to rotate. I just could not get used to this method as it felt fiddly and unnatural. The cars do handle well and the physics do seem adequate although physics in a game like this is not a particularly high priority for me.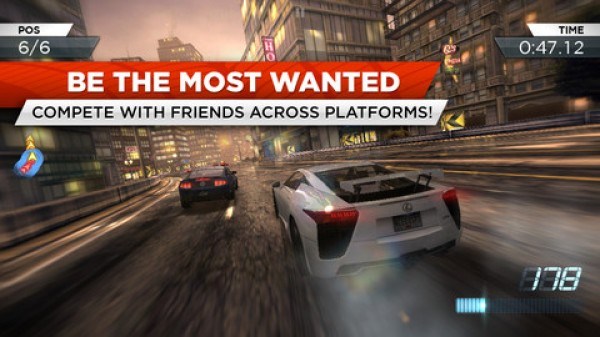 The tracks themselves are punishing. You have to dodge traffic, some of it oncoming, all while trying to outrace your competition. Nitro boost builds up with time and effective use of this is a must. Soon enough you hear the police chatter on your scanner - the cops are on your tail. They start ramming you, setting up road blocks and deploying the spike strips. Running a cop car off the road refills your nitro meter. Hitting anything from other cars to walls is unforgiving, resulting in a severe loss of speed and in some types of races, it even results in a time penalty.
The garage boasts several cars but only a limited number are available due to locking and price. And that brings me to the IAP that plays a major part in the game and some may deem it obtrusive. A lot of the cars are so priced out of your reach that it would require loads of grinding in order to get your hands on it. Otherwise you can just spend some hard earned cash. Similarly, the difficulty level on some races are sky high. Pre-race, you can buy one-use goodies like better nitro or tyres or other things that will give you an advantage. Otherwise, get a better car. Doing this too many times will severely drain your in-game wallet and this may lead you to start draining your real wallet instead. I just wish that the in game items weren't as difficult to obtain especially for a premium priced game and not a freemium.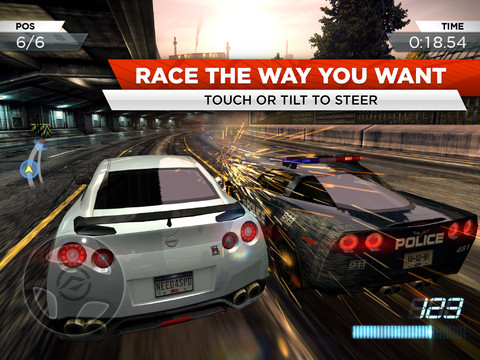 All in all, it is a fun, fast-paced frenetic game. It looks great and is still a joy to play. Without putting in any real cash, you can only get so far. Still, very enjoyable but at a price.