Ah, the MechWarrior universe, who wouldn't want to live in it? A gigantic metallic colossus, weapons drawn, barrelling down a plain, ready to rendezvous with an equally hulking mass of metal at the other end. So with blood pumping full of testosterone (and enthusiasm), I am trying out MechWarrior: Tactical Command on the IOS.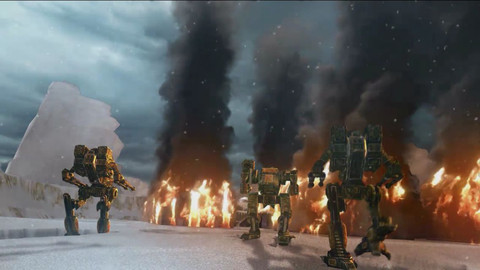 The Federated Commonwealth have encountered a curious enemy during a scouting mission, an enemy whose firepower seems to be greater than anything they have seen. It is up to you, as the new MechWarrior commander to guide your squad of mechs through s series of missions to confront this new power or face total oblivion.
The game is a reasonable effort at a RTS with some minor RPG elements. Each mission is presented in a top-down view allowing you to pinch to zoom onto the action. Control is available using the usual tap-to-move and hold for the context menu. This is pretty intuitive if not for the unresponsiveness and low intelligence of your units. Your units do not seem to attack when enemy mechs approach if they have issued a "Walk" command - instead, they are pre-occupied with walking to their destination. Similarly, your unit will often get "lost" behind a building when walking together as a squad to a destination that is a screen away - which is strange because if they are walking as a squad, why does only one mech have issues with pathfinding. Sometimes, your mechs would also not follow your instructions, plain ignoring them. The context menu would also refuse to appear in many situations. It just leads to frustrating controls, which is a shame, as I can see that a lot of thought went into designing the interface to be intuitive.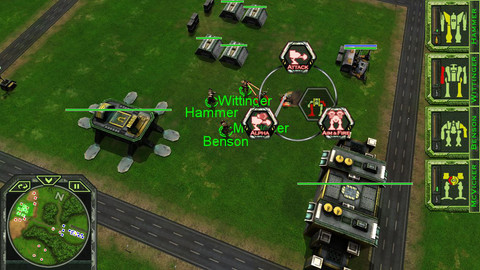 Graphics are adequate but not particularly impressive. The actual mechs are small, even when zoomed in full. It sometimes is difficult seeing what is going on due to the miniature size of the mechs. Weapon fire is basically just straight lines from one mech to the target. It just is particularly awe-uninspiring and emasculating.
Voice acting, during the pre-mission briefing and in-mission chatter is reasonable and does the job. The voiceovers are the usual over-the-top, stereotypical macho voices, the kind that are particularly jarring and as subtle as a jackhammer. A particular cringeworthy moment though was when we see bushido-obsessed Omata for the first time, replete with comic Oriental-impersonation accent. This, combined with almost all the other voiceovers, should have been toned down just to maintain a semblance of believability.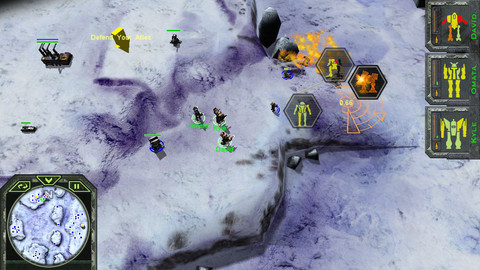 The actual missions are quite enjoyable and challenging, often having enjoyable twists mid-missions, breaking you away from the mission brief. After the first set of missions, you get to customise the loadout of your mechs, providing a small, warmly anticipated aside to the main gameplay.
If only for the run-of-the-mill execution of the game, this could have been an excellent RTS. The gameplay has many enjoyable moments but is let down by troublesome controls, annoying artificial "non-intelligence", disappointing graphics and voiceovers. This is a game only for the true MechWarrior fans, unfortunately.