Logitech Tablet Speaker
This interesting albeit strange looking device from Logitech is actually an enhanced speaker system for the iPad. Simply by clipping the Logitech Tablet Speaker onto the iPad (or any tablet) and then connecting the 3.5mm audio jack into your iPad, your sound experience will be considerably enhanced. With that said, this device can work on other tablets thanks to its rubber clip, however this review will solely focus on the iPad with the Logitech Tablet Speaker.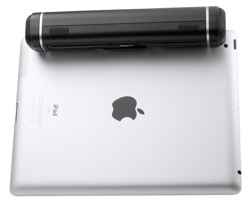 Another highlight of the device is that it is quite small and lightweight, ensuring portability does not become an issue with the product. The Logitech Tablet Speaker also comes with a travel case and there is a small manual that accompanies the product.
In terms of power, the device will last around 8 hours of constant use which is almost the same charge of that of the iPad. For charging, the Logitech Tablet Speaker does come with a rechargeable battery but it can also be powered through a USB connection so its definitely a win win situation.

When it comes to quality, Logitech have always been on the forefront of well made speaker options and the Logitech Tablet Speaker is no exception to the rule. Considering its size and its design, most users should be pleased with the output of this product, although we did notice that the bass levels were a little low.
Even so, whether you're playing music, games or watching movies, it's definitely an improvement tenfold with the in-built speakers of the iPad. Given that, the product has two speakers inside the cylindrical tube which is part of the reason why it produces such good sound.

Another clever aspect of the device is that it can also be used to slightly prop up the iPad which is perfect for typing as it makes the iPad more like a Keyboard than just a flat service.
Final Thoughts?

We would happily recommend this device to those users who want to attach additional speakers to their iPad without the additional luggage. It is also the perfect travel companion as not only does it provide increased volume and sound quality on your iPad but also poses as a stand.
Check it out!