Created by Australia's very own Wicked Witch, Jonah Lomu Rugby Challenge Mini Games is the perfect iOS game to kill some time while your waiting with your iPhone. Although not a full blown rugby game for the iPhone, this title supports two modes of play that include Conversion Flick and Try Zone Swipe which require players to test their rugby skills on their Smartphones. Just forgive my rugby knowledge as I'm more an AFL person than rugby!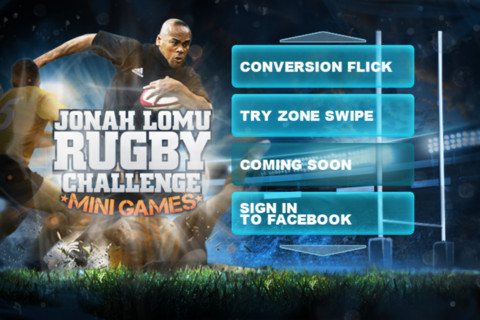 The game even links with Facebook and there is a "Coming Soon" section which will hopefully add even more mini-games to this title. With that said Conversion Flick requires the player to kick goals, whereas Try Zone Swipe is all about dodging your opponents in order to get from one end of the field to the other to score a try or for our US friends, a touchdown. Both are quite fun and inside each mode, there are a variety of additional options.

In Conversion Flick, the player can choose between competition, endurance, last chance, count down and bonus time. Although all modes are relatively similar, they are slightly tweaked to give the gamer some variety. In competition, the player must keep kicking a ball by swiping their fingers towards to the goal and when they miss three times, the game ends. Endurance increases the points for conversions and you are allowed to miss up to five times.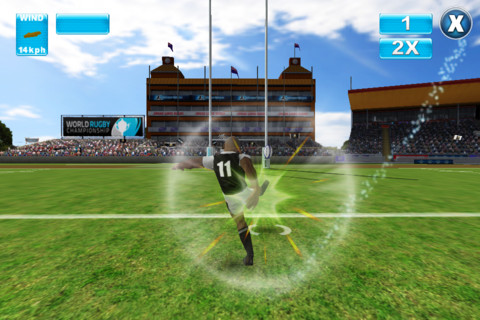 Last Chance is just that, if you miss, the game ends. Count Down is my favourite because you need to score as many conversions points as possible by kicking goals and once the timer reaches zero from 120 seconds, the game ends.
It's quite a fast paced and at times frustrating yet addictively entertaining experience. Finally we have Bonus Time and each successful conversion point, the player is awarded additional time. When the time runs out, so does the game.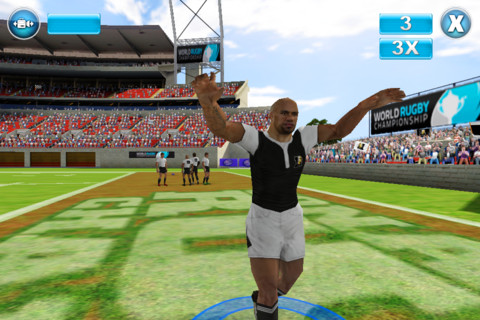 The gameplay of Jonah Lomu Rugby Challenge Mini Games is quite simple on the iPhone and in Conversion Flick, all you need to do is swipe your finger towards the goal posts and if you get it through, you are are awarded points. To make things more difficult, you need to take into consideration the wind and the angle of the goal posts that keep moving.
Try Zone Swipe is completely different as you need to get to the try zone but dodge your opponents by swiping to the left or the right. By holding your finger on the player, it forces him to run and you can control the direction. Alternatively, you can just point to the field where you want the player to run. This was a little tricky at the start to master but once mastered, it's quite a treat to play and can you also adjust the zoom length of the camera. To compound the situation, the more you succeed, the more defenders that you face.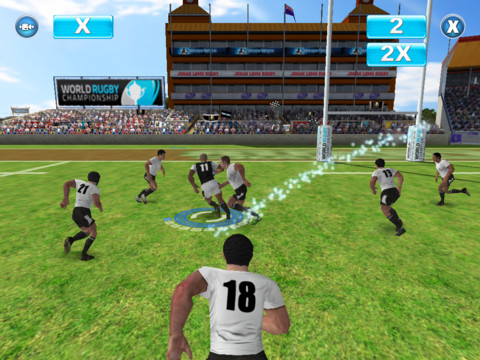 Graphics/Audio
Graphically, Jonah Lomu Rugby Challenge Mini Games looks great on a iPhone 4S with some exceptional detail that really looks like the Rugby field. Drom detailed stadiums to realistic grass and more importantly, well animated characters, this game looks visually quite impressive on this Smartphone. Music has this rock 'n' roll feel to it and all the sound effects work well with the gameplay.
Final Level

In the end, Jonah Lomu Rugby Challenge Mini Games is a fun game on the iPhone 4 and although it may sound a little simplistic, it's far from it and is easily one of the most addictive titles on the iPhone 4.
Definitely recommended to the Rugby fan!