Stoned 3D developed by 3Dgrafix is a quirky game with a caveman twist.

This simple based game play is addictive and fast-paced game. Stoned 3D is about cavemen who throw out different shapes of rocks. Moreover, your goal is to catch those shapes with your board. You use your finger to move the board from left to right.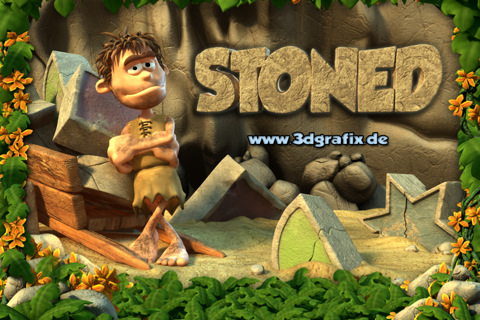 It is a score based game as well. In addition, the faster you are the more points you score. Now, you also have your downfall. If you miss a shape, you lose a life. Keep in mind though you only have three. Therefore, your mission in the game is to
bank as much score as you can without having to waste all your life.

The graphics of the game are definitely something to look into because, like the title, you really do see the game clearly. With any iPhone or iPod you can play and witness the smoothness of this game. The sound keeps the theme of the game.

Therefore, they do make you feel like your playing in cavemen times. It also has the speed to where it sets the mood to boost you up and gets you pumped to collect those stones.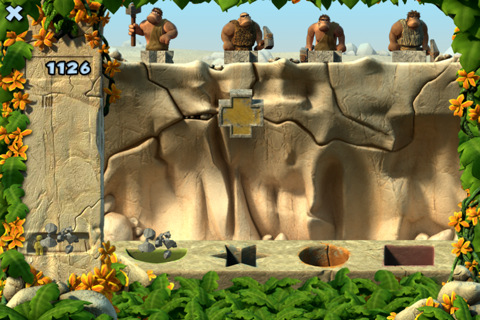 The game play of the game is simple. Match the stones shape to your board. It sounds like a game a child will play but it is addictive and entertaining. Not to mention they have a little dinosaur that pops up once in a while to distract you. If you touch him, however, you can get good points for doing so. However, you should not worry too much on the dinosaur since he is there for distraction. Unless you are quick with your fingers then in that case tap away.

Another good thing to point out is that this game has GameCenter and OpenFeint. These features allow you to give you a name and you display your game score world wide. So imagine you reaching a better score than someone else. It always feels good to accomplish a score that others can try to beat or never reach. You are also able to display your score on Twitter or Facebook. It does not hurt to brag about an accomplishment.

You also can unlock certain achievements. For all those achievement lovers, this game has some unique ones to unlock. Therefore, if you are looking for a fast-pace, addictive, and score based game Stoned 3D is a great choice.

Noemi Portillo
United States Writing Team
Impulse Gamer