Oh, when WrestleFest for the iPad found its way into my hot little hand, I rejoiced. I had spent a small fortune on the original arcade incarnation and have fond memories of Big Boss Man and Hulk Hogan suplexing their way to coin-op greatness.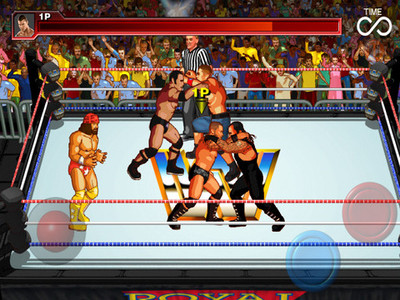 The iPad version, at first glance, seems to be a faithful reproduction. It brings together some present stars like John Cena and Rey Mysterio with some old favourite Legends like Stone Cold and Randy Savage. Annoyingly, Big Boss Man and some other popular characters are in-app purchases only. The game has several modes including Royal Rumble, Road to Wrestlemania, Tag Team and multiplayer, but the question is, how does it play?
The wrestlers are controlled via a virtual arcade joystick and a couple of buttons at the bottom of the screen, similar to the old arcade games. Instead of button mashing, you'll partake in a lot of button swiping and at times, frustratingly finicky controls, particularly when trying to tag your partner (It seems like you need to be just in the right place to do this).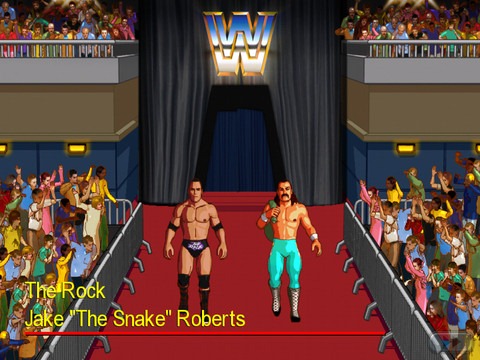 The wrestlers are portrayed in a zoomed out perspective to the original, shrinking the characters to such a level that, I believe, contributes a less satisfying bone crunching experience. Computer opponents still come back after being pummelled but even so, just button swiping seems to win most matches so the difficulty level is not particularly high. Maybe times have changed too much, but the jerkiness of the animations is a bit too hard to swallow when you are playing a game with HD at the end - some animations seem to have only a couple of frames.
The sound seems to keep in with the 90s theme, being a good rendition of an 8-bit retro memory. Unfortunately, I think times have moved on and unless the gameplay is there, the graphics and sound have to represent the greater detail and animation available to today's portable devices to adequately represent the strength, the action and the excitement that comes with wrestling.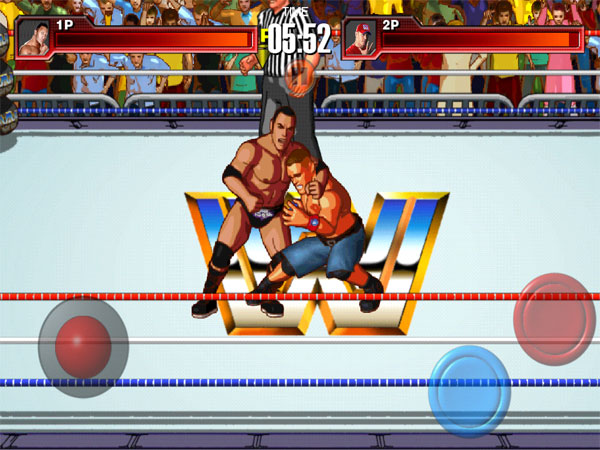 Despite this, WrestleFest is still one of the better wrestling games on the iPad and is worth a shot for wrestling fans although is not recommended for anyone wanting to relive the joys of the original.