Waking Mars takes place in 2097, when Earth has discovered life on Mars. You are Dr Liang, who is following Octo, a robot probe that has gone missing within the twisted tunnels of the Red Planet. As you traverse these caverns, you are also tasked with learning about the biology that lives within and luckily, the information that you attain will be essential in reaching the deepest areas.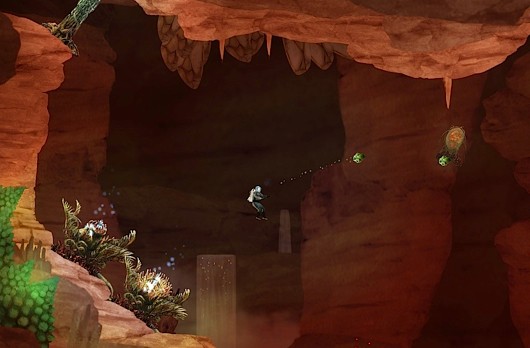 All information you gather will be recorded in a virtual electronic archive. You will pick up loads of different data on various fertile terrain and hazards as well as reproduction, vulnerabilities and different properties of the organisms that you encounter. All of this information is actually gathered through an analytical robot companion, whose conversations are scattered with humorous dialogue - he seems to be the king of understatement. Combined with occasional contact with base camp, the data that trickles through piques your curiosity and motivates you to continue to find out how everything fits in. Sketchy Octo photos of mass martian bio structures, strange radio signals coming from deep within the caverns - it all adds up to an immersive story and ensures that you keep trying to reach that next area.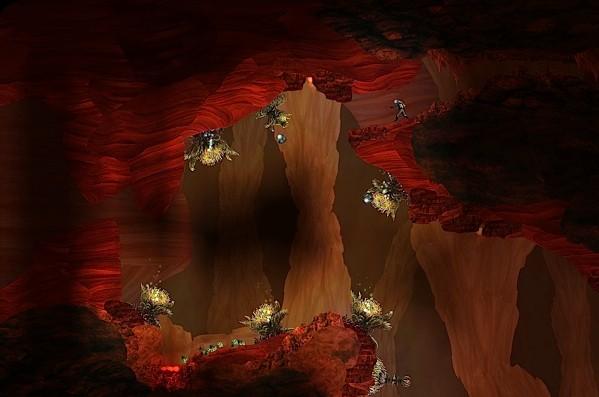 Most areas will have a biomass level target that needs to be reached before the next stage is available. You achieve this through altering the ecosystem and the interactions within. By growing plants, influencing their reproduction or their interaction with each other, you will raise the biomass level. Certain events occur at different biomass levels - organic walls disappear, plant and creature behaviour change. It is with this careful manipulation that the central theme of gameplay lies. Herein lies some of the issues with the game because in many of the areas, you just need to keep planting and throwing seeds at different plants in order for the biomass to be achieved. With these areas, there seems no structured design of the puzzles - they do not seem to offer a difficult struggle and then an a-ha moment. Sometimes, the biomass level can be reached without even trying, something happening off-screen, an unintentional interaction which diminishes the satisfaction in completing the area.

Even with this failing, there is still a lot going for this game. The game is still a joy to play. The controls are intuitive while the graphics and music combine to form a claustrophobic, lonely atmosphere. In addition, the narrative is intriguing enough to keep you playing. Who would have thought that horticulture would be this much fun? Waking Mars is a game worth playing for its immersive and refreshing gameplay.