I thoroughly enjoyed Mortal Kombat 3 on the iPhone/iPod Touch and when I discovered that the iPad was getting a HD version of it, I was over the moon. Based on the arcade game, Ultimate Mortal Kombat 3 HD is almost an identical port from the original game, however the intuitive touch screen of the iPad has replaced the buttons and the joystick. In turn, virtual buttons are created for the various attacks as coloured buttons that you simple just push and presto, it will correspond to one of the attacks such as a punch or kick.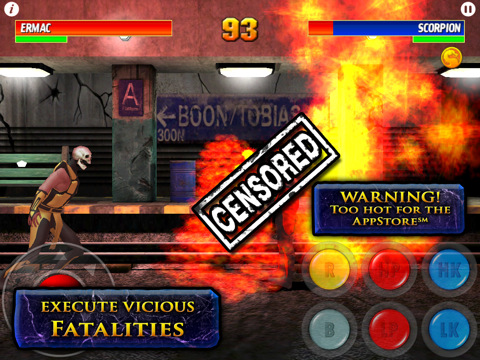 Control of your character is then done on the left of the screen as a virtual stick which allows you to navigate the fighting environment and perform jumps and flying attacks if need be. With that said, this is not a dumbed down version as all the attacks are included in this release but the only tricky bit that I found on the iPad version is that sometimes the movement controls are a little difficult to navigate. However if you persist, it does get better. Needless to say, Ultimate Mortal Kombat 3 HD is a button smasher but considering that all the attacks are there, it's definitely a worthy port for the iPad.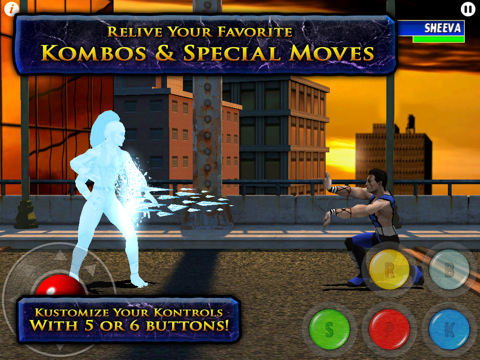 Depending on what fighter you choose, the difficulty level of the AI rapidly increases and once you get to the boss, things become quite challenging for the player. The finishing combinations are brilliant and quite deadly, provided you have enough coordination to successfully use them. The game does support multiplayer via Blu-tooth of WiFi and we tested this via Bluetooth that was actually quite fun as we versed each other via iPads.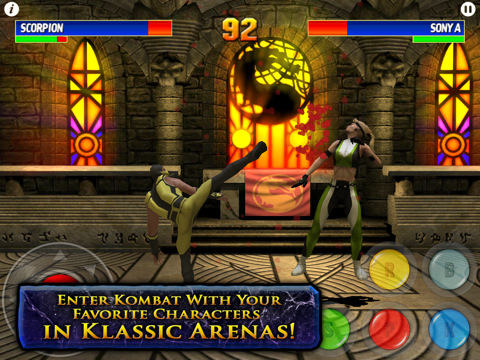 Thankfully for newbie or casual gamers, there is a simplified control system but it does make things a little too easy as opposed to the original game mechanics. All in all, Mortal Kombat is a decent fighter on the iPad with some exceptional 3D type graphics.
This faux 3D for a 2D fighter looks great on the iPad, especially in HD with some strong animation and good character models. The backgrounds mimic the original game and the title has this real retro albeit modern feel to it. Music is ported straight from the original game as are all the over the top sound effects like "Outstanding!" or "Fatality!"... brilliantly perfect!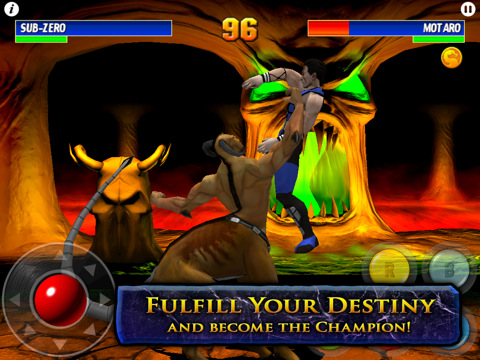 In the end, Ultimate Mortal Kombat 3 HD is a fun port to the iPad that does not take anything away from the original game but rather opens it up for a whole new generation, especially casual gamers. With decent graphics and a sturdy gaming engine, Mortal Kombat is definitely one of the better fighters available for this platform and as the fight commentator would say in this game... OUTSTANDING!