Trivial Pursuit is one of the world's most popular board games (created in 1979) and EA have just released their latest incarnation for the iOS with Trivial Pursuit Master Edition that features a plethora of new questions and that same classic gameplay which is perfect on the iPad! In essence, EA have successfully managed to port this board game to the iOS and opposed to playing the real board game, it's basically just a virtual version that is almost like the real thing... but you don't have to clean up afterwards! In our books, it's waaaaay better!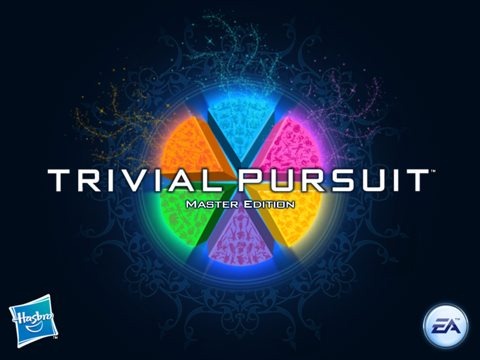 For those that have never played Trivial Pursuit before, the object of the game is to win the 6 coloured edges in the game by correctly answering general knowledge and popular culture questions. These coloured wedges are a certain colour and represent a certain knowledge base such as yellow for science & nature. The first person who manages to collect them all, wins.
There is an element of luck also involved because you need to toss the die in order to move on the board but this is the chance aspect of the title that opens it up for fairness. For example, if you role a two and land on yellow, one of the questions may be "Where can the volcano of Katmai be found?". The game would then give you a choice of multiple choice questions that include Greece, Alaska and India. If you managed to guess Alaska, that would be correct and then you would get to role again. Keep on playing until one person wins. There are also a variety of difficulty levels and settings such as timers that can be tweaked in this virtual version of Trivial Pursuit.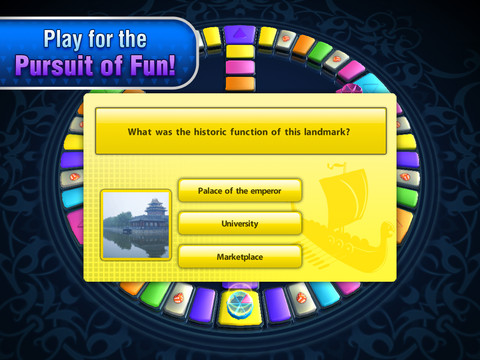 Apart from the traditional mode on the iOS, Trivial Pursuit: Master Edition also supports a Pursuit mode which removes the board game approach and is more just a set of questions that is similar to the PS3 game Buzz! or any other quiz game that has been on TV. It's basically like a ladder system but each square is a colour and of course, each colour relates back to a certain themed question.
There is a die involved but this is a relatively random aspect but the better you score, the more you can move. There are quite a few levels involved in the Pursuit mode and can be quite frustratingly addictive at times, especially with the timer. For multiplayer, the game supports a table-top view and Wi-Fi Multiplayer but unfortunately no internet mode. Both modes support up to 4 players. All in all, it's quite a fun and entertaining game that pays homage to the original well.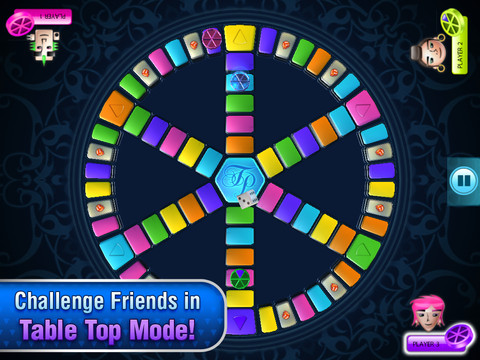 Graphics & Audio

Graphically, Trivial Pursuit: Master Edition looks good on the iPad and everything is exceptionally clear. The graphics mimic the board game well and looks awesome on the iPad 2. Sound effects are limited and the soundtrack is horrendous... it's definitely a musical score that needs to be disabled.

Final Level

In the end, if you missed out the original Trivial Pursuit on the iOS, you should definitely check out Trivial Pursuit: Master Edition, especially if you want to use your mind as opposed to mindless action games. With a healthy amount of new questions, for now, this is the definitive version of Trivial Pursuit on the iPad and iPad 2. Check it out!