Late 16th century Japan. The smoke of your burning village surrounds you. Your father, the leader of the Crane clan, has been betrayed by your supposed allies, the Takeda. As you see him die, you vow vengeance on the Takeda and so begins Total War Battles : Shogun, an RTS set in feudal Japan.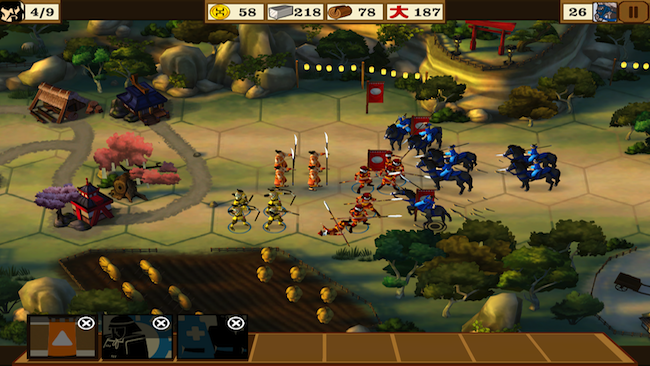 You would think that trying to capture the essence of an RTS into the constraints of the iPad would be difficult but Creative Assembly have done a brilliant job. The battlefield has been shrunk to perhaps four or five screens long. This makes the placement of your buildings extremely important - each has a large footprint and have requirements to be near certain others.
Juggling their locations is an artform in itself and epitomises how the game has gone about shrinking the world onto the mobile platform - strategy is unsurprisingly the key and even more important than ever. Strategy in the placement of your buildings to maximise resource collection and making the most out of your space. Strategy in choosing your units wisely as you only have a limited number available on the battlefield and limited resources that accrue slowly. It just seems that by distilling the game into its essential components, Creative Assembly has amplified the strategic elements as well as the ramifications of choosing the correct (or wrong and ultimately ineffective) one - thinking through what you are about to do is imperative.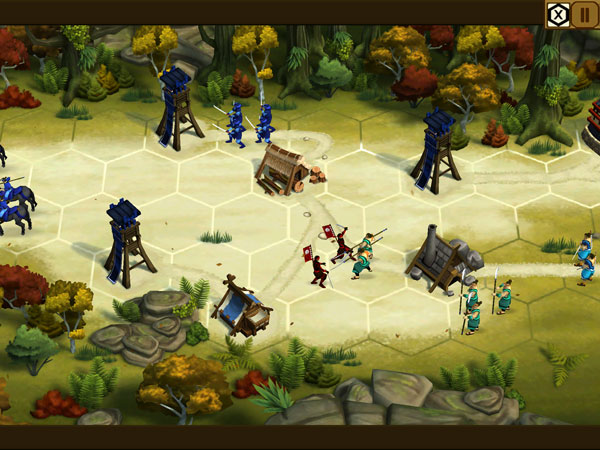 The gameplay is surprisingly varied too. In some levels, you will need to slay the General on the far end of the screen, while protecting your own. In others, you will need to raise a certain amount of resources in a certain time while protecting your buildings from an onslaught of enemies, delicately balancing the required resource gathering with defending your buildings by spending your resources on units. In some levels, you will not even have any buildings and have only a handful of units that you need to carefully manoeuvre to assassinate a distant adversary - knowing the strength, weakness and range of your units is the key.
Thrown into this mix are Orders, that are focussed by your General. Orders can be used on units to maximise certain attributes for a limited time (by making them go faster, respond to commands quicker or just go into a berserk rage) and can turn the tide of battle if used correctly. Although completion of some levels reward you with the advancement of the excellent back story, others reward you with valuable experience points that can be used at the shop to improve your buildings, units and orders. (You can, as always, use your own money via IAP).

All levels are introduced by excellent voice acting. The animations are detailed for their miniature size and the controls intuitive, aided by a helpful tutorial to ease you in. The back story is well written, with enough twists and advances at a reasonable rate. Itís refreshing to be pleasantly surprised when a genre that is difficult to migrate to the tablet world is actually pulled off. This is a very enjoyable game and although a little pricier than others, is worth a look.