Developers Firemint have skidded back into the extremely popular racing market with their latest Real Racing game, Real Racing 2 HD which features improved graphics, slightly slicker gaming mechanics and 16 cars on track at once.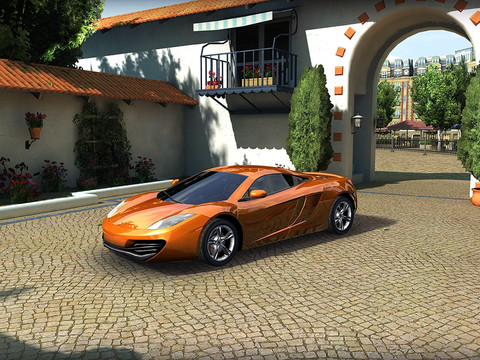 However my favourite aspect of Real Racing 2 HD is of course the licensed cars that include brands such as BMW, Lotus, Jaguar and even Volvo. There are actually 30 licensed cars and compared to the first Real Racing title, this game is far superior.
Features
NEW IN v1.10: Full HD 1080p TV-out and dual screen gaming support on iPad 2. Experience Real Racing 2 HD like never before in stunning, true 1080p while real-time racing telemetry is displayed on iPad 2!

Expanded Career mode with 120 races and new high-definition version of Castellona, available only on iPad and iPad 2

Gorgeous, high-fidelity graphics on iPad 2: full-screen anti-aliasing, building window reflections, high-detail objects and surfaces and fully-modelled vehicle interiors

iPad 2 gyroscope support for exceptional steering and handling

Race against players using Real Racing 2 and Real Racing 2 HD

Completely revamped controls and user interface, tailor-made for the iPadís larger screen

Upload and download save games between Real Racing 2 and Real Racing 2 HD
The gameplay on the iPad works well and there are a few different control options, depending on your preferred method but for that full experience, using the gyroscope (e.g. tilting your iPad) is very responsive. Add in a variety of gaming modes such as 10 Hours of Cup, Head to Head, Championship, Time Trial, Elimination and you have everything you need to keep you quite busy.
The career mode in Real Racing 2 HD is exceptionally long and definitely well worth to get lost in its complexity. Add in a variety of courses and Real Racing 2 HD definitely gives the player some good replay value when it comes to racing.
Another cool aspect of the title is the ability to play up to 16 players online which for me was where the fun was located. As opposed to the sometimes stagnant AI, real-players give the iPad owner a true challenge and is where I've spent many hours of my life racing. Another highlight of the game are the glorious HD graphics.

Graphics/Audio

Visuals in Real Racing 2 HD are sharper than the previous version and contain some awesome car models that look quite realistic. Backgrounds are equally as good as are the lighting effects. The game is bordering on high-end console graphics. Sound effects are decent and the soundtrack works, although it does sound a little generic. I should also mention that this game supports 1080p output so if you want to hook this up to your FULL HD TV, it is possible.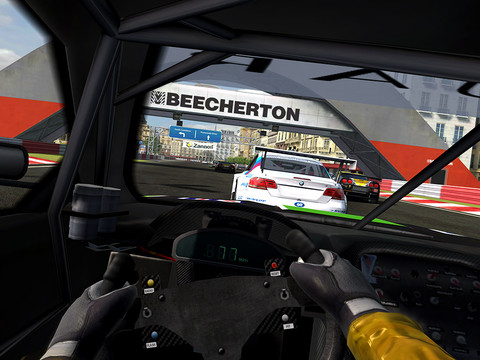 Final Level

Firemint continue to be one of the leaders in iOS gaming apps and Real Racing 2 HD is no exception to that rule. Although the solo modes are fun, nothing is more enjoyable than pitting your skills against real-world opponents as it turns the sometimes generic racing into a virtual racing frenzy.