Never in my wildest dreams when I think of an endless-runner clone would I think of a jolly umbrella, floating straight up, amongst raindrops and birds. Clone is an unfortunate term to use, as PlicPlic has a certain adorable individuality about it.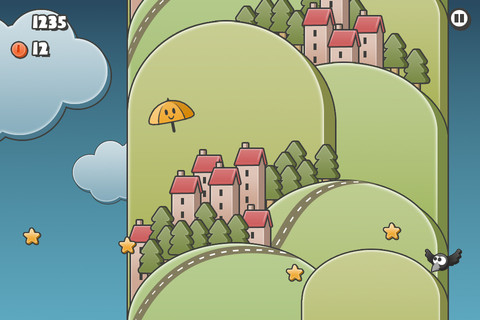 As PlicPlic, you float gently up amongst a backdrop of pleasant cartoon mountains, quite reminiscent of the mountains in Super Mario World (In saying this, the music itself has the same catchy whimsy of aforementioned classic). PlicPlic will eventually run of juice if not for the stars that you pick along the way, giving you a serious boost. Collecting three in short succession gives you a super boost of sorts and turns you into a coin magnet for a short spurt. Otherwise, coins are collected the hard way - running, ahem, swinging into them.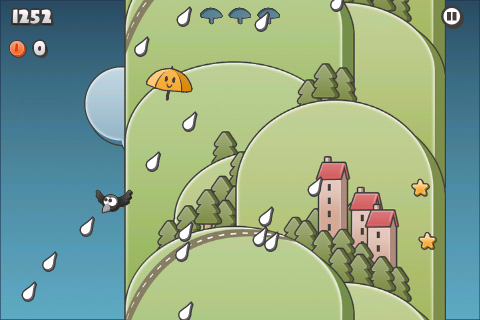 Which brings me to the controls. Touching on either side of PlicPlic will make it dip that side, the longer the touch, the larger the dip down and to the side. Inertia, though, makes it difficult as PlicPlic has it by the bucketloads. Once PlicPlic starts a dip, it is very hard or nigh on impossible to stop it hence anticipation and leaving yourself a safety barrier lest the unexpected appears is key. The unresponsive nature is something I accept - who said an umbrella needs to be dexterous? Your main obstacles are birds flying through and thunderstorms when you get higher.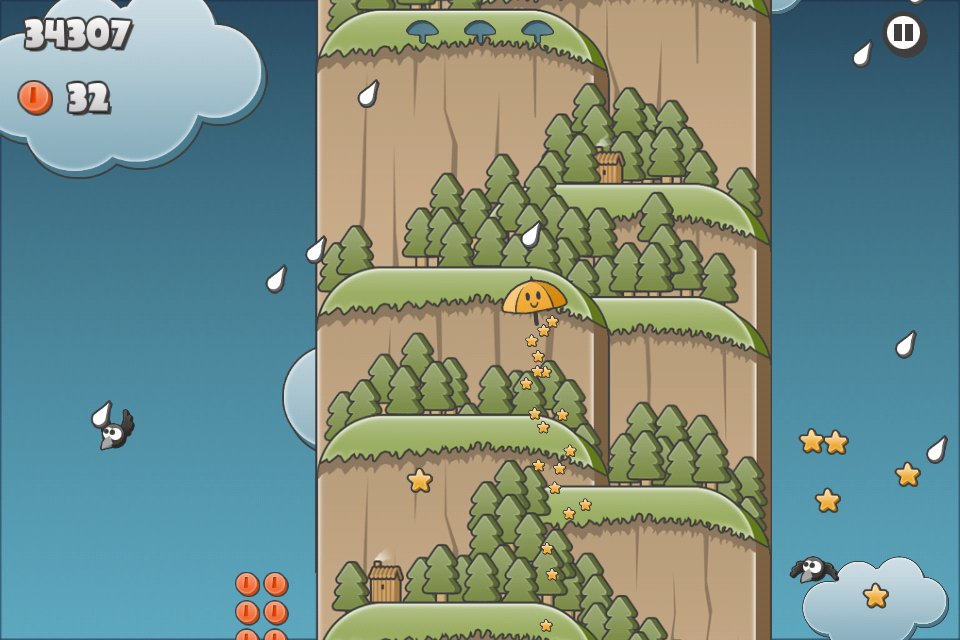 To add to the mix, there is the usual missions to complete, that will increase the score multiplier. These usually involve flying under birds, flying off screen, collecting a certain number of coins or points. Completing three missions will increase the score multiplier (say from 2X to 3X) and bring on the next set of missions. IAP is present but not particularly necessary - most items are within reach with persistence. (Double coins.... mmmmmm.....)

All in all, PlicPlic is a jolly fun game. Addictive to a degree, simple, cheerful, chirpy, it really did appeal to my sensibilities. Longevity though, as with a lot of endless runners is questionable. Still, for less that a buck, worth a try.