Mobile office suites on the iPad have come a long way since the launch of the original iPad and us consumers are now becoming spoilt for choice. Gone are the days that we spent hundreds of dollars on such full featured products, most now are going for just a few dollars. Byte² have recently released an update of their flagship product, Office² HD. Office² has been around for quite a while and was one of the first office suites on the original ipad. Sporting some unexpected functionality and delving into Word/Excel/Powerpoint territory, this app is ambitious, to say the least. The application comes with a word processor, spreadsheet, text file editor (basically the word processor without any formatting options.) and presentation editor.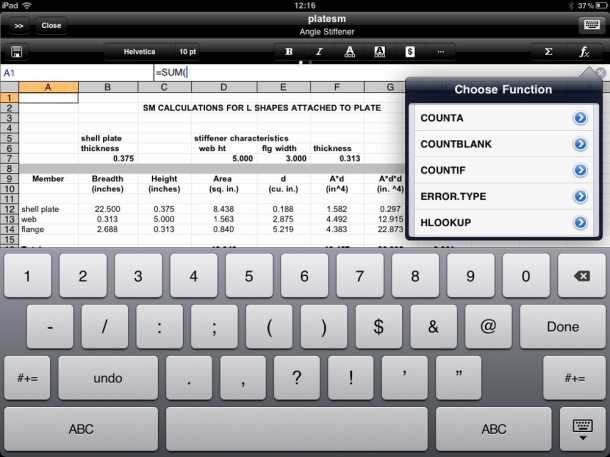 If you have used Word, the document editor is a breeze. Most of the functionality is available from the formatting bar at the top of the screen, which deceptively is split into parts; most of it lies offscreen and requires swiping to access. The range of features is pretty complete. You have a full set of text formatting options at your disposal as well as different layout options like margins and breaks. You can even print, but only to Airprint printers, which I believe is huge deficiency, but one not limited only to Office². As with other iPad word processors, text selection is still fiddly, accurate tapping is sometimes difficult to achieve (eg setting margins on a ruler) and getting things done can be a slow process - perhaps gestures are the next big thing for these kind of apps. Bringing a bluetooth keyboard along alleviates some of these issues, but portability is one of the reasons to use an iPad in the first place.

The spreadsheet application has a wide range of pre-defined functions in several areas and should accomodate the basic spreadsheet user. For more complicated, specialised spreadsheets, the selection of functions will not suffice, and resorting to a more full featured offering (eg Excel) will be required. Also, one large omission seems to be the option of graphs, which I could not find anywhere. The Presentation editor allows creations of presentations via defined templates. It offers basic drawing and formatting functionality and a snazzy presentation can be knocked up in minutes.

What a lot of people require in this interoperable world that we live in is interchangeable formats. One great thing about Office² is the way that it integrates with DropBox, a popular cloud service for iOS users. It also integrates with GoogleDocs, one of my all-time favourite cloud services. For just a few dollars, Office² offers a reasonably fully featured mobile office suite. It may not be as polished as Pages or Numbers, but it certainly gives Apple a run for its money. Office² is certainly an app to keep your eye on and is a valid alternative for computing on the go compared to lugging a laptop around.