The iPad App Store is definitely a minefield when it comes to gaming, especially with racing titles because you definitely want to get value for money. Thankfully the latest racing game to be released on the App Store, Need for Speed Shift 2 Unleashed is more than just your average racer and contains some exceptional graphics and almost perfect controls for the iPad!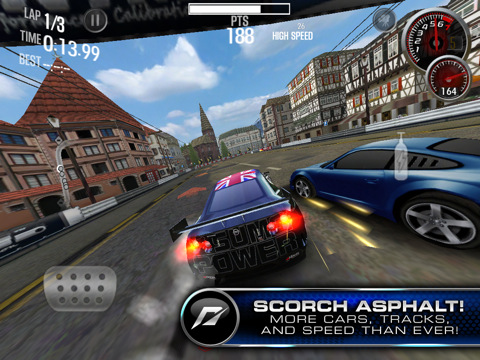 As opposed to most racers, you are awarded credits which can then be used to customise your car that not allows you purchase better cars and upgrades but adds to the longevity of the title. Given that, the game does support all the classic races as opposed to the almost Gran Turismo type events and more importantly, a decent control system.
The control system of Need For Speed Shift 2 Unleashed takes full advantage of the motion capabilities of the iPad and by tilting your iPad left or right, this in turn moves your vehicle in the intended direction. In terms of controlling your vehicle, the game does use an auto-acceleration and brake system but if need be, you also have a brake override and nitro option. These can however be tweaked.
There is also a green arrow on the tracks that helps you steer but if you want more realism, you can easily switch to the in-car view which puts you right behind the wheel. If you need a bit more power to win, you do have access to nitrous boosts as mentioned which really add an element of speed into this game.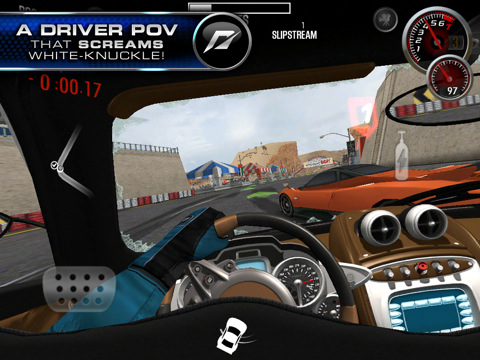 When it comes to gameplay, Need For Speed Shift 2 Unleashed contains a plethora of event to compete in and around 40 or so cars to unlock. I was actually quite surprised by the number of real-world cars accessible to the player from standard cars to more powerful super cars such as the Lamborghini.
Best of all, the cars look like their real-world counterparts and although the control of most vehicles is similar, you do notice the difference between the more expensive and powerful cars. Add in a variety of locales from around the world such as Rio to something completely different to Germany's Black Forest and the developers have ensured that there is plenty of variety in terms to where you drive.

There are a number of different gameplay mods that include quick race trials (Shift Cup, Global Cup, NFS Cup, Unleashed Cup & Origin Cup), career, race friends (requires free Origin account) and single-race. Once again I was surprised how in-depth the career mode of this game was as you engage in races and events to assist in your progression.
The most impressive inclusion into this game is EA's Origin Social Gaming Network that basically is a cross-platform system which means no matter what console you have, all statistics are shared on a central server such as leaderboards and challenges. Definitely great for bragging rights!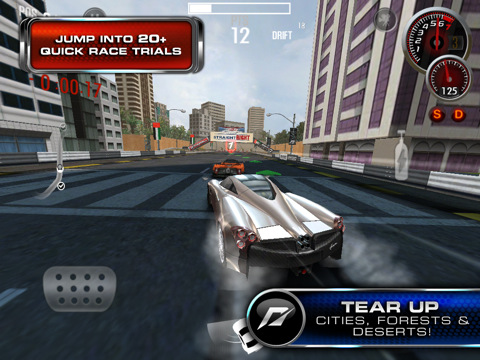 Graphically, this title is pure eye candy on the iPad with some highly detailed gaming environments, realistic car physics and well modelled vehicles. When I first played this title on the iPad, I immediately thought "wow" and even now, the wow factor remains. This game looks like something you would see on a PlayStation 3 of XBox 360 as the detail and special effects is quite impressive.
Best of all, the game retains a silky smooth frame-rate to enhance your racing experience. In terms of camera viewers, there are several to choose from and my favourite is still the outside view, even though the inside view is quite decent. Surprisingly all the camera angles work quite well but most gamers will find their favourites. Soundtrack is equally as good with its modern rock score that at times, does get a little repetitive. Sound effects are just as cool!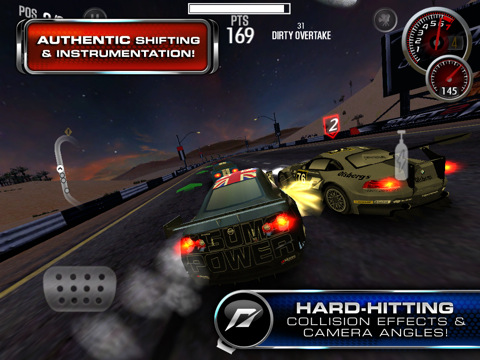 In the end, EA have created another fun game on the iPad and iPad 2 and have successfully ported their Need for Speed universe onto this format. The gameplay works well on the iPad and the controls are almost perfect, although a little simplistic at times. Hopefully in the future, EA will include true online multiplayer racing but for what it's worth... this is a damn good title!