When one first sees Modern Combat 4 : Zero Hour, you canít help but marvel at how impressive it looks. Some seriously cool visual effects have been crammed into this game. In saying this, Gameloft have tried to push the envelope, not only graphically but in many other areas. MC4 not only puts you in control of the terrorist but also the elite soldier trying to stop him. As the game progresses and you play out both parts, more of the story is filled in which gives an interesting twist to the normal one-sided storyline.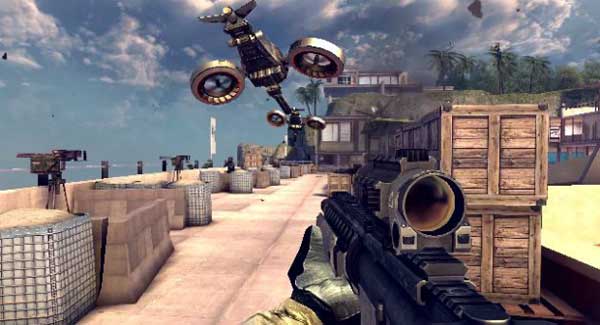 There are also a few new and interesting gameplay elements, some not really seen in iOS FPSes. Yes, there are the ubiquitous virtual dual-stick controls, running through assorted environs, crouching behind cover, killing everything in sight. At times, this is broken up by small quicktime event scenes, usually found just after passing a checkpoint.
This is fortunate, as the game can sometimes have issues detecting your swipes and this can only mean one thing - instant death. I donít really see the point as it breaks the tempo (after killing a string of guys, dodging bullets, swiping and then dropping dead instantly, saying ďBut I did swipe!Ē). I have to say this though, these scenes do look cool as they usually involve you killing a swathe of people in a matter of seconds, closeup.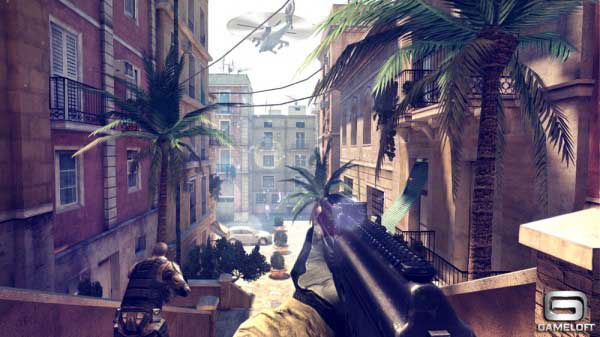 The chance to take control of different vehicles is appreciated but in essence, the game then turns temporarily into a rails-shooter. Couple this with the fiddly tablet controls and it makes for a fun, albeit occasionally frustrating diversion. The sound is well done and the dialogue in MC4 is well acted despite some unbelievably corny, over the top, stereotyped scripting.

MC4 is a fun, action-packed FPS with some interesting gameplay elements. Some elements donít really work as well, but they do make MC4 that little bit more interesting than your average run-of-the-mill FPS. And it does look particularly good.