N3V games, the developer of Heist : The Score has an interesting history. N3V rose from the embers of Auran, who burst onto the gaming scene, years ago, with their innovative RTS, Dark Reign. What made it even more special was that Auran was an Australian outfit, as are N3V now Their latest iOS game is the on-rails shooter, Heist : The Score, which takes place in the 30s.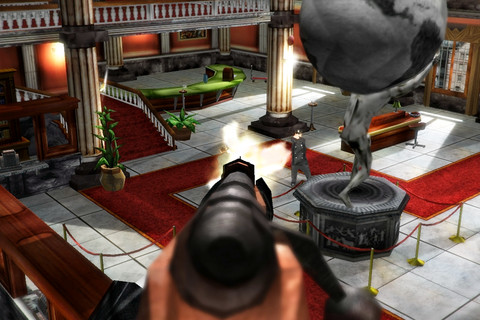 You are the newest addition to a ragtag mob, that currently consists of Giuseppe Gallo and Salvotore Da Luca, stereotypical American Italian mobsters. The Heist refers to a raid on "the National" and the aim being to recover a suitcase locked away in the inner depths of the grand, old building.
What is inside this suitcase is anyone's guess; the contents must be important enough to risk one's life against waves and waves of cops and other adversaries (I won't spoil the twist that happens half way through the game, half way being half an hour). There also is enough teasing at the end to warrant a sequel.

The bottom left of the iPad controls the viewing angle and crosshairs, as well as taking cover, while shooting and reloading is controlled from the bottom right. A further action is shaking the iPad - this opens doors and fortunately, there aren't many opportunities to perform this jarring feature.
The controls are made even more difficult with huge recoil of each weapon, that totally knocks your crosshairs away after every shot. The checkpoints, though, are numerous - dying in the game means restarting from, at most, 5 minutes earlier.

The game's visuals are mixed. The backdrops are pretty and bright, with splendid art deco interiors. In saying this, with the release of recent shooters, the engine seems simplistic and dated. Characters seem to lurch and lumber towards things and this is made worse with the lack of detail evident on them.
Heist sounds great through headphones with booming bass filing your ears. The voice acting is professional, but a little overly simplistic and caricatured.
One last criticism is that the game is way too short, lasting just over an hour, but at an introductory price of 0.99c, it is recommended for shooter fans who don't mind being on rails, for a change.