Cygnett Lavish Earth
This versatile folio inspired case from Cygnett not only gives additional protection to your iPad 2 from bumps, knocks and scratches but it turns into a great little stand for this smart device. Designed as a stylish slim folio case, the Lavish Earth folio case from Cygnett is not only a fashion statement but is perfect for using it to display your iPad from three different viewing angles.
For example, you might be watching movies or YouTube and with the Lavish Earth, this will prop up your iPad 2 for hands free viewing. If you have a Bluetooth keyboard such as the KeyPad, also from Cygnett, this case basically turns your iPad 2 into a laptop type experience. It's definitely more versatile and better looking than the Apple alternative in our books.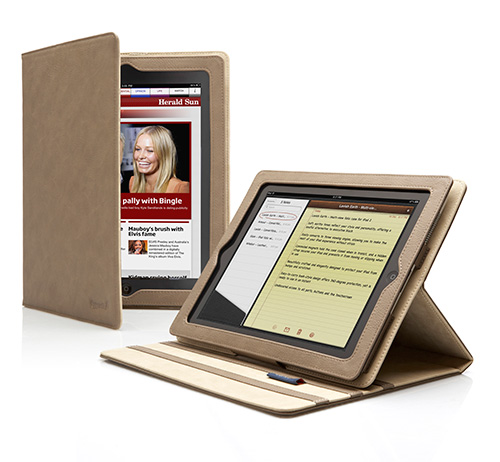 Features
Instantly converts from a slim folio case to reveal three viewing angles, allowing you to make the most of your iPad experience

Beautifully crafted & elegantly designed to protect your iPad from drops & scratches

Easy-to-carry book-style design offers 360º protection, yet is ready to use in an instant
The design of the Lavish is quite professionally designed that boasts two different coloured leathers and would not look out of place anywhere and looks like you are carrying a book or more particularly your folio. The colour of our review unit was a deep purple that is definitely gender friendly. Overall, it's a well designed case with sturdy stitching and quality materials.
Installing the iPad 2 into the Lavish Earth was extremely easy and it just slid into the case with a Velcro clip that holds it in place. There are also magnets on the case to close the folio and it does take a little bit of force to open it up again. It should be noted that the iPad 2 is not that snug inside the portfolio, so getting it in and out is quite easy. Rest assured, once it is clipped in, it will not fall out.
Thankfully when your iPad 2 is inside the Lavish Earth, you have all access to your buttons and there is even a cut-out for the camera. The only downside to the case is that it does add a little bit of weight and size to your iPad 2 but even so, is still a good idea for that additional protection on your investment. With 2-years warranty, this case will probably outlast your iPad 2.
Check it out!