The screen of your iPhone 5 is the doorway to everything and nothing is worse if this doorway is scratched or damaged. Thankfully ever since the original iPhone, manufacturers have been making screen protectors that for the most part protect your screen from marks, grime and minor scratches. However there are a few companies that think outside the box and Tech 21 is one of those companies with their new Impact Shield for the iPhone 5.
Unlike traditional screen protectors, the Impact Shield is considerably stronger and boasts some great features like self-healing and bubble free implementation. It even features BulletShield with BASF's patented interlayer protection which makes this one of the toughest screen protectors in the world. Amazingly this is the same material used in bullet proof glass and is almost like having a hard glass screen protector for your iPhone.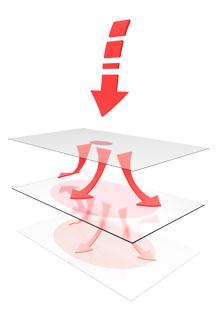 Features
Advanced Impact Protection

BulletShield featuring BASF protection interlayer also used in bullet proof glass

Self-healing Anti-scratch

Easy application

Perfect Optical Clarity
In terms of installation, I was amazed at how easy the Impact Shield screen protector was installed on my iPhone. Firstly, you just wipe the screen with the included cloth and then carefully lay the first layer of the Impact Shield. Give it a few second and then use the cloth to wipe the screen, ensuring that it is fitted correctly. Last but not least, you remove the final layer which has a tab sticking out and your iPhone 5 screen is protected. Once installed, not only is your screen protected but it looks just as good as if there was no screen protector on it.
Final Thoughts?
The great thing about Impact Shield is that is quite affordably priced and will probably be the only screen protector you'll ever need for your iPhone 5. With easy installation, no bubbles and crystal clarity when installed, the Impact Shield is like a body guard for your iPhone 5 screen.
Recommended!