It's not a game, it's a tool. Well not really a tool that is shall we say a must have email tool. It is however wonderful frivolous fun. Add something extra to your email's from your iPod with IMBooster. These are funny little icons called emoticons, grinning faces, weird cat things, animes, and various other odd and sometimes amusing icons.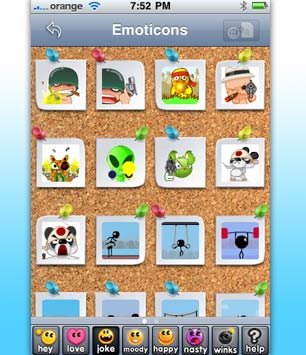 There are dozens of these things to sift through to meet just about anyone's needs. Bare in mind that they may not be the thing for a business email, and even a friendly email to family and friends may find your emails becoming annoying if you over use.

IMBooster is a port to the iPhone and iPod Touch, it has been around for a while for the PC and MAC. The download is available for most of the email clients. It even works on Facebook.

The App is meant to work with Emails mainly so have at it. To use these in an email you copy and paste a message into the app itself, then send the message from the Application.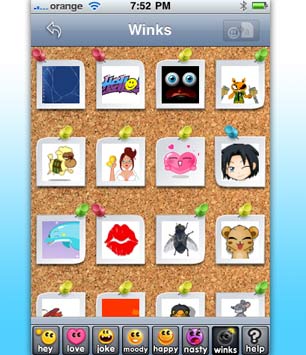 Opening the Application you are greeted with a split screen, the top part for typing a message and the bottom part has your choices of the little emoticons. A simple swipe of the finger and you browse through the icons and decide how you want to decorate your message. The choices are divided into different categories including Love, Moody, Nasty, etc etc. Not much use in the professional world, but for those private emails to pals it good clean fun.

Have fun play games
Edwin Millheim