To me Garden Gnomes are creepy, but Gnome's Treasure starring a garden Gnome of all things is actually pretty fun. A puzzle style game that reminds me of some of the old side scrolling classics, like Lode Runner and Dig Dug. With 5 different worlds and a whopping 40 different levels is a very large game as mobile games go. The consumer definitely gets a lot for their purchase price.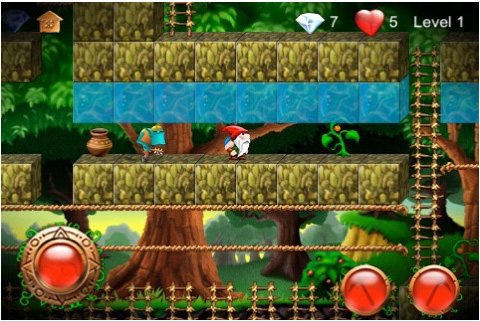 All around the graphics and sounds are not too bad at all, pleasing actually. The premise of the game is the little Garden Gnome that the player has control over has to collect a number of gems on each level and in turn a key that unlocks the next level. All the while running around and trying to avoid the monsters that are also running around the level. Each level looks pretty well designed and harkens back to some of the most successful coin op old school games. Casual in concept but oh so addictive. You can pick up the lite version to try out at iTunes, store for free before you buy the full version.

The virtual joystick in the game takes a bit of getting used to. Practice makes perfect as they say, so the strange virtual joystick will be second nature after several minutes of game play. Response time is pretty fast using the controls, once in a while there was a stutter or pause when using the dig buttons and getting rid of a block. This is oh such a minor thing, and does not throw the game under the bus or anything like that. Actually if nothing else the darn little Gnome game is addictive. It works it's little gnarly Gnome magic on you and makes you want to play more. Playing through the levels and avoiding the monsters running around all the while on a treasure hunt of your own is a blast. Gnome's Treasure is one of those oh so simple yet oddly immersive games that suck you into the over all simplistic nature of it all.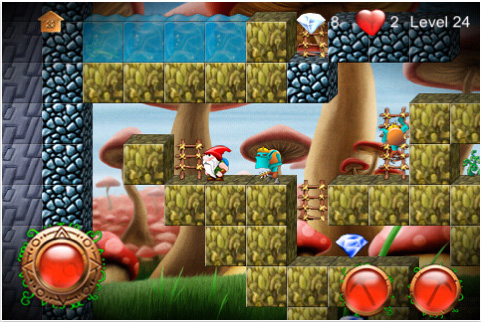 With several way out worlds ranging from A Gigantic Mushroom Forest, The Hidden Waterfall, A Primeval Forest, The Screaming Swamps, and the Rocky Mountains. Avoiding the monsters that wander about is accomplished by a couple of different ways. Digging a pit or trick the monster into a dead end. Now sure getting all the gems is great and that's the rub... the ONLY way to get to the next level is to get all of the gems on the level. Then the Gnome can get the key to the next level. Each level get's gradually more challenging. A super game indeed, so much so that the designers are even now working on the next chapter in the gnomes adventures. Play Gnome's Treasure get addicted like the rest of us.

Have fun, play games
Edwin Millheim
U.S Editor
Impulse Gamer