The highly popular Garage Band application from the Mac and the iPad has finally arrived on smaller Apple devices such as the iPhone and its developers have not scrimped on any of its functionality. At its musical heart, it's a fully fledged music maker that allows users to create their own professional sounding music tracks from various guitars to drums and other interesting instruments. As opposed to the Mac version, this current version is more akin to the iPad thanks to the intuitive touch screen display which allows all control to be done via the screen.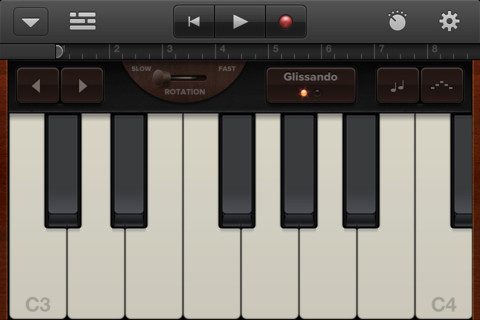 We tested GarageBand on both the iPhone 3GS and iPhone 4 model and both smart phones performed exceptionally well. The app however was considerably faster on the iPhone 4 as there was some longer loading times on the 3GS. Nonetheless, both devices worked well, although navigation sometimes proved a chore. However after using this program almost non-stop for the last week, I've actually created some decent sounding scores.
Although the app automatically saves your song, you can share the song via iTunes and e-Mail. For those users that want to further tweak their tunes, it is possible to import your creations to GarageBand on the Mac or even Logic Pro to increase the scope of your composition. Another aspect of GarageBand what I liked is that your creations can be freely distributed with no copyright limitations. Very cool indeed!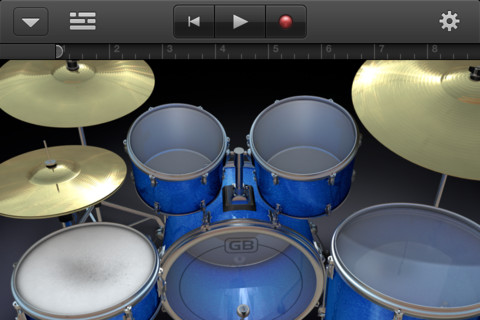 Once the rather large download (500+MB) was installed on our iPhone, we were ready to test this remarkable beast and when loaded, we were treated to a rather user-friendly interface. The first screen allows you to scroll through all the available instruments which include Smart Keyboard (tap chords to create keyboard grooves),Smart Guitar (Strum an onscreen guitar to play chords, notes or grooves) and Keyboard (Play an onscreen keyboard with piano, organ and synth sounds).
We also have Drums (tap on drums to create a beat), Guitar Amp (plug in your guitar and play through classic amps and stompboxes), Audio Recorder (record your voice or any sound), Sampler (record a sound, then play it with the onscreen music keyboard), Smart Drums (place drums on a grid to create beats) and Smart Bass (tap strings to play bass lines and grooves). *Phew*

As mentioned, the iPhone app is basically a mirror image to the iPad version and amazingly enough, you can actually connect an electric guitar (via an adapter) to your smart device in order to use the built-in amps or use the stompbox effects. In relation to the iPad version, there are some small differences due to the size of the screen such as less keyboard keys displayed on the iPhone version but it is still a fully operational application.
If you have an Apple smart device with a microphone, you can even record audio tracks or create strange sounding effects. I'm actually quite excited for those musical minded people to create some professional compositions and with GarageBand, it's actually quite easy and possible.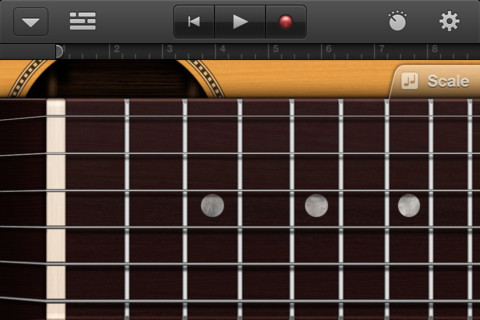 Once you have selected an instrument, you simply just touch the screen of your iPhone and it will create a musical note. To record, you just touch the record button and presto, whatever you touch will be recorded.
All the musical instruments in this program can be tweaked and for example, if you selected the "Grand Piano", you can adjust properties such as track volume, transposition and fine tune your master effects such as echo and reverb. There are also a plethora of loops that can be added to your songs such as "Classic Attitude Rock" or if you want something more worldly, "Latin Spice Percussion". These loops do help spice up your tracks and is recommended to novice users of GarageBand.

As the program is a fully fledged music creator, you can add additional instruments to your tracks so while you might be creating a piano track, you might want to add an acoustic guitar or for something totally different, maybe a hard rock guitar.
There are a total of eight tracks that you can add instruments and audio to which considering the size of the iPhone is a true feat in itself. Given that, the only limitation of the program is the user itself and the more musical orientated you are, the more adventurous you might want to be by combining totally different instruments and loops. However with that said, the app is so easy to use that even the most novice of musical lovers (like myself) should easily be able to create some impressive scores.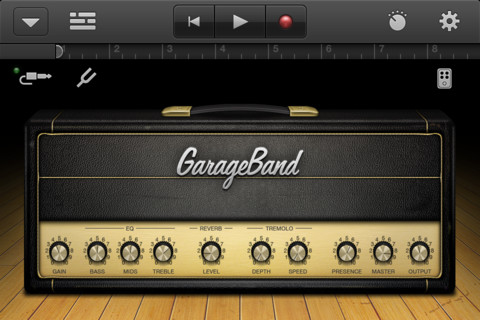 Final Thoughts?

In conclusion, Apple should be commended on successfully porting the iPad version of GarageBand to the iPhone/iPod Touch which is going to become the ideal companion to music-minded people. Because when you do become inspired by that musical muse, you can now take our your iPhone and get to work, no matter where you are.
The only drawback with the app is that there is quite a bit of trial and error and there is no real instruction manual available for the product. It is fun exploring, however if you want to get straight into the creation, this may be an issue for some. Even so, once you do master the app, it is quite easy to use and allows you to create some amazing compositions, even if your musical knowledge is nil.
Best of all, the cost of the app is around the same cost as a cup of coffee.
Highly Recommended!