We've just recently reviewed Fight Night Champion on PS3 and our reviewer sung its praises from its almost perfect game mechanics to lush graphics. But where does the App Store version fit into this mix? As opposed to a port, EA Games have created a rather good boxing title for the iPhone that mirrors the decent game mechanics and impressive graphics of its console brethren. This is also the first thing you notice about Fight Night Champion on iPhone/iPod Touch, the realistic graphics which easily make this one of the best looking sport games on the iPhone and iPod Touch. If you have an iPhone 4 of the newest iPod Touch with the Retina Display, it's even better and I seriously mean this.
Gameplay modes in Fight Night Champion include Fight Now (one off match), multiplayer or my favourite, Legacy Mode which allows you to either create a new character or "rebuild" a legend. If you rebuild a legend, you basically start the career of a boxing legend from the get go which is also fun to make them fight against modern fighters. Whether you choose a pre-existing boxer or create a new one, you can tweak their fighting settings by choosing the weight class, stance and even style.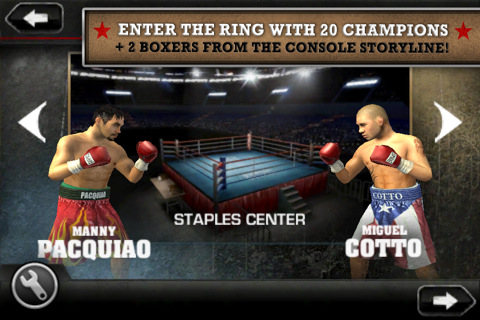 It should be noted that Fight Night Champion is not a cut down version of a boxing game and allows the player to engage in all facets of fighting, including a variety of punches, dodges, blocking and some power-ups. The control system has been well mapped onto the touch screen of the iPhone. The game supports the tilting capabilities of this smart device, so tilting it to the left or the right will move your fighter in that direction and if things become too sensitive, there is a calibration meter for the tilt sensor.
To punch (jabs and straights), you simple tap the upper part of the screen for a jab or right for a straight. Right hooks or left hooks are done by flicking either the top left or top right of screen which performs a hook. My favourite is the uppercuts which is similar to hooks but you flick up and body hits, hooks and uppercuts are versed from the lower side of the screen.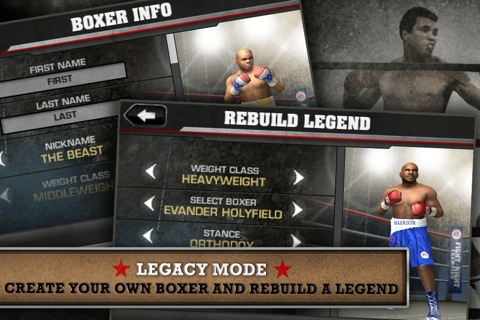 You also have access to Haymakers that require you to touch the screen until a ripple forms around you and a signature move which requires you to slide your finger diagonally down-right and then up to the right. The signature move does take a little time getting use to but it works like a charm. Illegal blows are basically the signature move reversed and is fun to use when your getting stuffing knocked out of you.
Add these moves with blocking, leaning, clinching and pushing and you have a very advanced yet intuitive control system for the iPhone. Just be warned that it does take a little time in mastering them but once you do, you'll fly like a butterfly and sting like a bee. Finally you have a very cool mini-game between rounds that allows you to recoup your health and is a nice little break from the button smashing.
Overall, the in-game mechanics are quite sturdy and the AI of the fighters range from easy to difficult and as you progress in legacy mode, things become steadily more challenging. If you select fight now, you can tweak which boxer you'll play and either choose a fighter depending on their skill level. Unfortunately Multiplayer requires Wi-Fi or Bluetooth to play so we were unable to test this feature. All in all, this is the best fighter I have ever played on the iPhone and EA have really set the bar for games on this platform.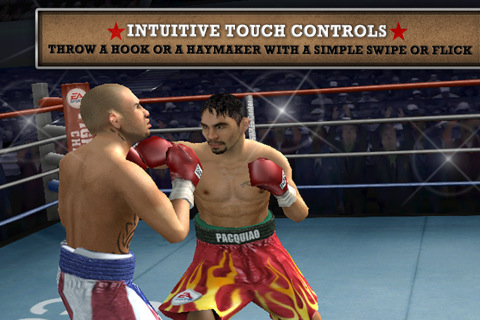 As mentioned, the graphics are very impressive in Fight Night Champion and all the boxers look like their real-world counterparts such as Muhammad Ali, George Foreman or the variety of classics and some modern fighters that adorn this title. With great character models, realistic movements, everything looks and feels like a boxing game should.
It's also great to see your blows actually do something but this of course, comes back on you as well when you get pummelled. Good lighting, realistic textures, Fight Night Champion is how all sport games should look. The only drawback in the game is the sometimes repetitive commentary but apart from that, the sound effects of the fights go hand in hand with the gameplay and graphics.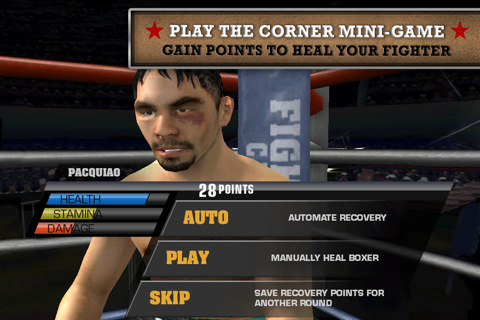 Final Thoughts? Fight Night Champion is indeed a game for champions and EA should be applauded in creating the most realistic and best boxing game on the iPhone and iPod Touch. It's a game that can be played constantly due to the intuitive controls that have not been dumbed down for the portable world of gaming. With excellent graphics that is matched with great in-game mechanics, Fight night Champion is definitely worth the purchase if you enjoy fighting games, especially boxing because this is as close as we'll get to actual fighting, just without the physical injuries.
Recommended!