I use to loath playing soccer games on mobile phones, more specifically ones that required you to use either the pad or the digits to control your player. However, something changed when Apple released the iPhone and gaming now found a new platform, thanks to the innovative touch screen of this smart phone.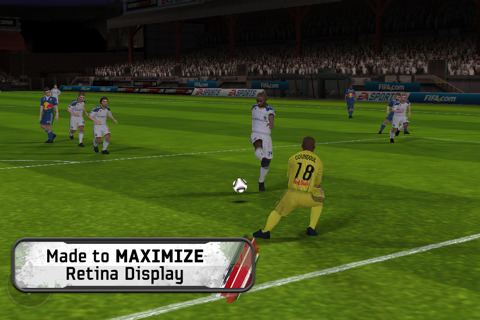 With that said, I love FIFA 11 on the iPhone and not because it's probably got the best control system on any mobile platform but because it's licensed (31 leagues with 500 clubs) and features a variety of great gaming options and control systems. In terms of gameplay, the game boasts a practice arena, leagues and cups which opens up short or long gaming sessions. If you want a quick game, there is an exhibition called "Kick Off" which works quite well.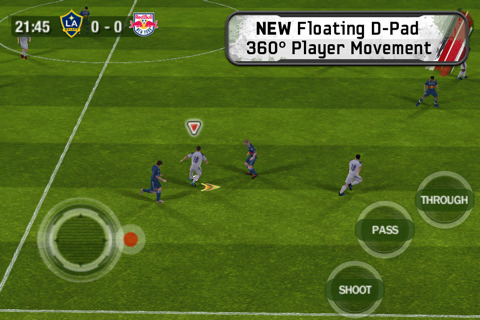 There have been some murmurs of a slowdown bug for FIFA 11 but obviously we must have downloaded the updated version as we had no issues whatsoever. In terms of controls, the touch screen works great and there are a few different tweaks, depending on preferences. As you can see from the above screenshot, you can use the "d-pad" on the left and then you have three options that include through, pass and shoot.
For casual gamers, the "casual" settings work well but for more advanced FIFA fanatics, the advanced mode makes the game more based on skill, than just luck and basic timing. As you drag your finger, tap or move it on the screen, it makes the controls quite intuitive that respond quite well as you engage in offence and defence.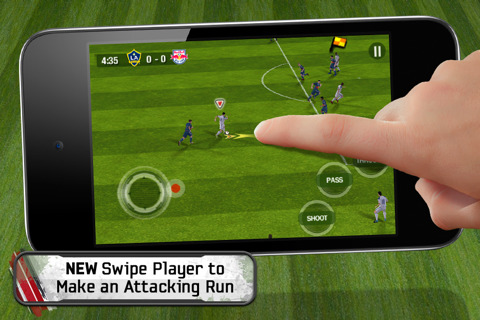 One annoying aspect of the game is that multiplayer is locked out. For those who purchased this app to play multiplayer and with no option there, you might be very annoyed. Coming Soon? Shame on developers for releasing it like that! Even though the gameplay works well, this loses a big 2 points in terms of gameplay. It's a little on the demo side but I'm guessing they are releases it in line with FIFA 11 on PS3, XBox and PC.
Graphically, FIFA 11 looks amazing on the iPhone 3GS and more specifically the iPhone 4, thanks to the Retina Display which contains extremely sharp graphics. Not only are the characters well animated and easy to control but the stadiums look fantastic as do the ball physics. In terms of earlier FIFA games, the developers of the iPhone version should really be commended in this department because this is one good looking game. Musically, the game is a little lacking but fortunately all the soccer sound effects have been implemented perfectly. The game even contains commentary which is quite unparalleled of a mobile version and works hand in hand with the gameplay.
In the end, FIFA 11 is the best soccer game on the iPhone but because it was released with multiplayer locked out, that's a really bad thing to do for paying customers. However if you're looking for single-player only, then don't let this bug because boy is this one fun game to play!