Who would have thought a tower defence game could be so damn fun... not to mention deliciously addictive to a point that you're in bed trying to complete another level. Created by Subatomic Studios, the premise behind Field Runners is simplicity at its best and all you need to do (HA!) is build towers to stop the endless hoard of enemies from getting from one side of the screen to another.
Offering a variety of game maps and difficulty levels, the gamer must also anticipate what the enemy will do because any weaknesses in your defenses, will be exploited. Thankfully for every enemy that you vanquish which includes troops to vehicles and even planes, you are awarded cash that can then be used to upgrade your towers and also purchase more expensive towers.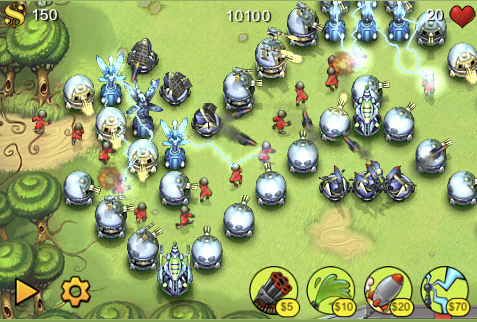 As you progress, the game does become more challenging and sometimes you need to sell your existing towers in order to entrap your enemies which does make for some fun and sometimes frustrating gameplay. With this in mind, the solutions in completing the game are only limited by the player and near the end of the levels, your adrenaline will be pumping.
Graphically, the cartoon style of graphics suits the genre perfect and all the characters, including towers are well animated. The musical score suits the game perfectly as do the sound effects and thankfully there are different maps to keep things interesting for the player. Great lighting and special effects as well!
At the end of the day, Fieldrunners is one of those games that will draw you in from the start and will not let go until you finished it. Even worse, once you have completed it , you'll be scouring iTunes for something similar but alas, this was not to be. Brilliantly entertaining!