Using the powerful Unreal Engine for the iOS, developers Phosphor Games have created the perfect survival horror game for the iPhone and iPod Touch. The game in question is Dark Meadow that lets you explore an abandoned building and fight unearthly creatures that would not look out of place in any good horror story.
However, as you're trapped in this old and decaying psychiatric building, your only solace is an old man who acts as your guide. Whether he is a force of good or a force of evil, I won't disclose but for the majority of the game, he will communicate to you via a radio and (hopefully) point you in the right direction.
Given that, dark Meadow uses a tried and true formula of the survival horror genre that generally scares you at the most inappropriate moments... just don't drop or throw your iPhone!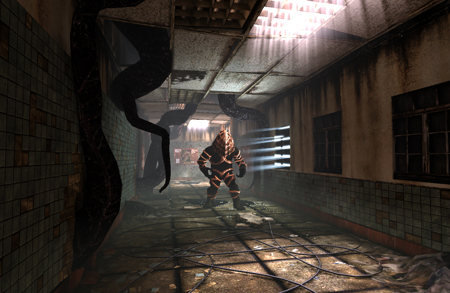 Dark Meadow also pushes the capabilities of the iOS that actually had me quite surprised that it was using the Unreal Engine which looks amazing on this portable smart device. The atmosphere is extremely detailed with some great special effects from lighting to shadows and everything you would expect to see in a high-end console game.
Sounds effects are just as good as is the musical score and the professional yet sometimes clichéd voice acting. All in all, it comes together rather well but what about the gameplay?

Unlike games that use the Unreal Engine, Dark Meadow is a little limited in navigating the environment as you can only walk forward, backwards and turn to your left and right. Even though you do feel like your hands are a little tied, the graphics and the atmosphere of the game more than makes up for this slight limitation.
As you explore the environment, you will also come across notes left by the previous residents of this building which furthers the story of Dark Meadow. Controls are like all good iOS games and needless to say, the touch screen controls work very well with interacting with the environment and navigating.
Apart from exploring this mysterious building, you will come across the new denizens that inhabit this decaying world. Although they literally pop up out of nowhere which can give you a slight fright, sometimes you see them coming which allows you to get your weapons available.
When you first start the game, you will find a crossbow and a sword. Crossbows are good for taking out your enemies from a distance but if they get too close, you can resort to melee attacks via your sword. Thankfully as the creatures become more powerful, the game will carefully lay additional weapons and items in the gaming environment to assist you.

Combat via the touch screen works well, although it does take a little time to master as you need to dodge attacks at times by taping left or right. When you attack via your ranged weapons, you can aim for particular body parts but this can be difficult as the enemies just don't stand there. The only downside to the combat is that it becomes a little too repetitive and focuses heavily on timing, rather than your own fighting finesse. The experience point system also feels a little forced. But even so, I enjoyed this creepy game on the iPhone.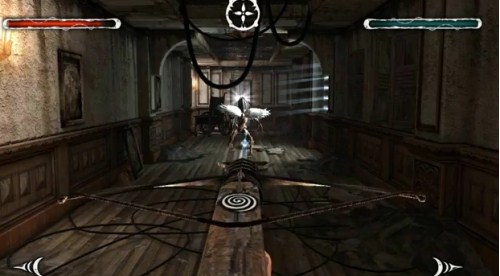 Final Thoughts?

Even though Dark Meadow had some combat issues, I still enjoyed this game because it's easily one of the most visually impressive titles on the iOS. The decaying building that you explore has been wonderfully created and really creates this dark atmosphere with a touch of loneliness. If you enjoy the survival horror genre and enjoy titles such as Resident Evil or Silent Hill, this may be the game that you have been looking for.
Check it out!